Would you wear special sun protection clothing?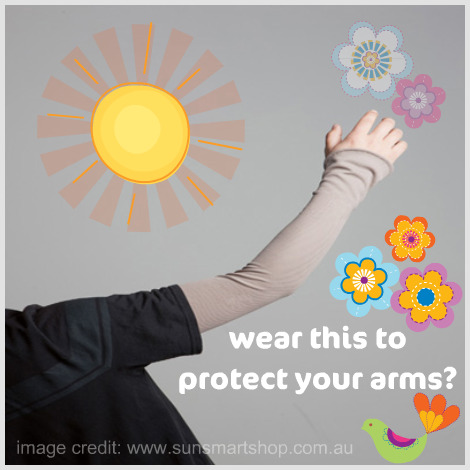 "What? UV driving sleeves? Does anyone wear this stuff?" That was the first thing I asked when I spotted these sun protection driving sleeves at a 7-11 store. In fact, I never knew this existed until now and of course I was so amused. I think it's a great invention but seriously, would you bother to put this on before you drive? I know I won't because I'm usually in a hurry to begin my journey and wouldn't be bothered to spend more time preparing for the ride. Plus, I can always use a cardigan or jacket with long sleeves if I really wish to protect my bare arms isn't it?
UPF rating
Come to think of it, I've never given much consideration to UPF clothing. UPF is similiar to SPF but stands for Ultraviolet Protection Factor and is a rating system used to gauge a fabric's effectiveness against ultraviolet rays. All fabrics disrupt UV radiation to some degree but those that does the best job carries a UPF value. UPF ratings range from 15 to 50+ but naturally, the higher the UPF number, the greater degree of UV protection a garment offers as a fabric. Any fabric that allows less than 2% UV transmission is simply labeled UPF 50+, which means only 1/50th of the sun's UV rays is allowed to pass through (source).
Types of fabric used
I've seen UPF clothes at Uniqlo but I've forgotten what's the rating like. It looked rather normal to me and I remember thinking how something so light-colored and lightweight can provide special UV protection. But I did not hold it up to see if light can be seen through. If it can hold up against the light, then it offers some level of sun protection as UV radiation won't be able to penetrate so easily.
Perhaps good for those with special conditions
Personally, I think UPF rated clothes are unnecessary for me and I'll rather rely on my sunscreen and Heliocare. Since it's meant for the outdoors to protect against the sun rays, then it make sense that it shouldn't be too thick so how can I wear something that has a high UPF? And I don't know about using such clothing on children outdoors as they won't be too happy getting all hot and bothered. But perhaps, it might be good for those with skin or medical conditions and can't use sunscreen at all? What do you think? Would you wear clothing labeled with UPF? Or do you use the sun protection driving sleeves?
* Me thinks the UV driving sleeves can make an interesting fashion accessory though.
Comments