Are you selfish about your beauty secrets?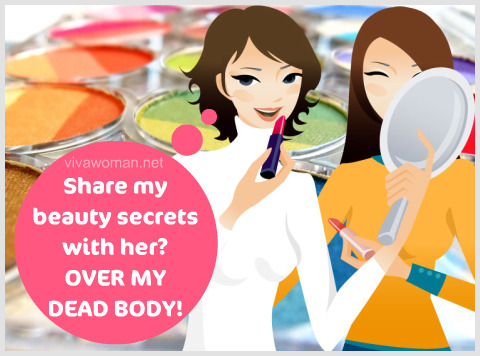 Sometime ago, my beauty therapist mentioned that one of my colleagues should be grateful to me for her glowing skin and I was a little perturbed by her remark. I quickly corrected her and told her that there is nothing to be grateful about as my colleague is paying for the facial service and all I did was to point her towards the right salon. However, according to my beauty therapist, "some women wouldn't even want to share that kind of information!"
Actually, this is not the first time I've heard such comments as a reader had also pointed out the same thing to me. Come to think of it, I have had instances where I did ponder if I should be blogging about some information especially those I deem as "beauty secrets". The thing for me is, having a bigger readership overrides any sense of wanting to be selfish and I usually end up sharing those information. But I have read at other sites where some bloggers openly admit that they are reluctant to share their beauty secrets or that they have reservations about telling others how they maintain their flawless skin. And based on some of the stories I've heard or read, the reluctance stems from feelings of selfishness, envy or jealousy. So I wonder: is this a norm or is this an exception?
Perhaps you want to tell me how you feel about sharing your beauty secrets or beauty tips with your friends. Is it something you'll do freely without hesitation? Would you withhold certain information just so that your friends would not know the entire secret or have you come across women who guard their beauty secrets really jealously?
© www.vivawoman.net copyright notice ☺
______________________________________________________________
Comments