Do you consider sunscreen as daily skin care?
In my post about wearing sunscreen when you go shopping last week, a number of you discussed about the necessity to use sunscreen indoors in the comments. Personally, I find that that is very much a personal choice but some of the comments made me pondered a little about the view towards sunscreen – even though many of us acknowledge that using sunscreen is important for our skin, how do we really view them? Are they deem as mere arsenals against the sun or they deem as skin care products to be incorporated into our daily beauty regime?
If my memory serves me right, I started wearing sunscreen in the late 90s. However, I didn't know anything about formulation and I didn't really use them that diligently on a daily basis. I only became fastidious about sunscreen application after consulting a dermatologist and he recommended me an SPF30 product from Skinceuticals, which was thick and left a visible whitecast on my face. However, I used it on a daily basis without fail and from then on, started my hunt for the perfect sunscreen. I've come across several formulations but many were imperfect – they were either thick, greasy, oily or all of those.
So like some of you, I used to find that using sunscreen on a daily basis was silly and bordering on paranoia. I mean, what's so fun about slathering a thick glob of cream over your moisturizer and then try to blend like mad so that you don't end up looking like a geisha wannabe?  And worst, you may end up with a grease filled face and streaking makeup by mid afternoon!  But still, I continued applying religiously in the hope of salvaging my badly pigmented skin and preventing further damage. Never mind the greasy film, never mind the whitecast, never mind the inconvenience; I'm happy so long I know my skin is getting protected from the UV rays.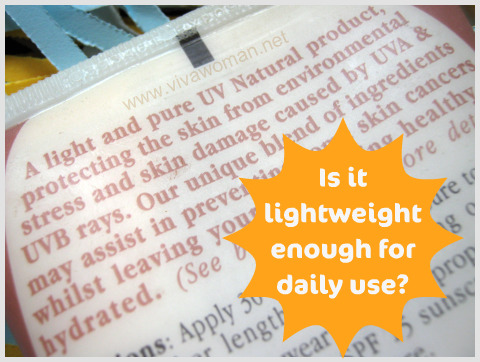 Texture: light or heavy?
But because of blogging, I had more opportunities to learn about sunscreen formulations and I started to narrow down my search to those containing only zinc oxide. I also noted that it's better to use a sunscreen with antioxidants that can fight the free radicals that attack our skin. Luckily for me, I found my perfect sunscreen in Marie Veronique Organics' range and have been happily using it for over a year now. Because of the various beneficial oils in the natural formulation, I actually consider this product a skin care more than a mere sun protection item. In addition, the texture is light enough plus the coverage is good and so there are no issues for me to use it daily; rain or shine, indoors or outdoors. So my view that applying sunscreen on a daily basis was silly and paranoid has since changed. I now view my sunscreen as a necessity in my daily skin care regime.
Marketing: subset or mainstay?
Other than the formulation, I reckon that sunscreens are viewed differently because they are marketed as such. In the stores, sunscreens and sunblocks are positioned as sun protection products for outdoor usage. And while there seems to be some sort of paradigm shift and many companies are beginning to introduce sun protection products in their main skin care line but if we look at some of the major brands, sun protection products are still demarcated as a subset under skin care and in some instances, in a completely separate category. So it's no wonder that consumers would also deem them as an additional item that seems to fall outside the main regime.
Formulation: moisturizing or not?
In fact, many of the sunscreens can actually double up as moisturizers and yet offer a broad spectrum of UV protection. The one I use is good on its own as it is actually a face moisturizer with a high zinc oxide content. Other products like BB creams for example, that offer adequate protection against casual sun exposure, are also viewed more as a skincare product to some people. I would also like to add that my daily sun protection product is natural formulation and hence, I have no trouble considering it as skin care. But for chemical sunscreens, regardless of their beneficial ingredients, I would always consider them in the strict sense of a sunscreen and that is – for sun protection.
What's your take?
So what's your view about your sunscreen or sun protection product? Do you consider it as a mainstay in your skin care regime that you can't leave without regardless of the weather or the environment? In discussing, it'll be great if you can also share the sun protection product you are using.
Comments