Glucosamine & Niacinamide for anti-aging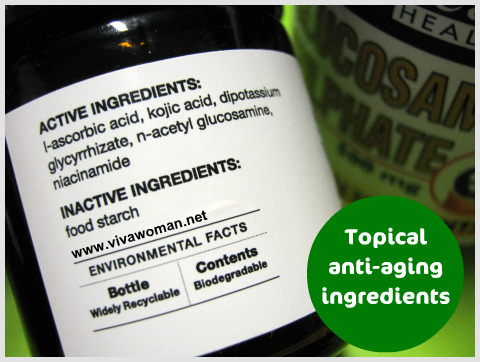 If you have read my product review on some of the Marie Veronique Organics products yesterday, you might have noticed two ingredients that I've mentioned – Glucosamine and Niacinamide. Both are widely known as health supplements but have increasingly, been included in topical skin care products for their anti-aging properties.
Glucosamine
Glucosamine as most know, is an amino sugar necessary for the construction of healthy connective cartilage and as a supplement, has been proven effective in easing osteoarthritis pain, rehabilitating cartilage, renewing synovial fluid, and repairing joints. However, a study presented by the American Academy of Dermatology in 2006 showed that glucosamine could prove to be an effective topical treatment to reverse the effects of skin cells damaged by UV exposure.
Niacinamide
Niacinamide, also known as Nicotinamide and Nicotinic Acid Amide, is a water-soluble vitamin that is often used as a food additive in many processed foods. It is part of the vitamin B group and there are research supporting practical uses of topical Niacinamide in skin care formulations because of its anti-inflammatory properties. In an article I read from Smartskincare.com, it is mentioned that Niacinamide maybe effective for the treatments of acne and rosacea.
Glusosamine & Niacinamide in reducing hyperpigmentation
In fact, according to an article at CosmeticsDesign.com, it appears that both glucosamine and niacinamide are effective ingredients in reducing hyperpigmentation and improving skin rejuvenation.
Two studies, one on a group of Japanese women aged 25-55 and one on a group of Caucasian women aged 35-65, concluded that N-aceytl glucosamine and N-acetyl glucosamine and niacinamide were more effective in reducing hyperpigmentation compared to a placebo and a nicinamide complex respectively.

Another study supervised by Dr. Kimball, chose 200 subject aged 40-60 with facial hyperpigmentation. The first 100 were given an SPF-15 moisturizing sunscreen lotion and a moisturizing cream with an N-acetyl glucosamine and niacinamide complex, while the other 100 used the same sunscreen and moisturizers without the supplements.

All the subjects were tested for effects of pigmentation and the results showed that there was a clear improvement in the effects of hyperpigmentation in the subjects who had used the supplemented moisturizer and sun screen.
Likewise, the study also tested for the effect of N-acetyl glucosamine and niacinamide in in vitro human skin cultures as well as clinical trials on women aged 35-60 with moderate to fine wrinkles. The study found that "the two complexes stimulated the production of hyaluronic acid, a key process in the rehydration of skin, as well as increased collagen expression. The tests showed that in human subjects the improved hydration brought about by the complexes led to a visible reduction in the fine lines and wrinkle of the women who tested the formulation, particularly in the eye area of the face."
My experience with the ingredients
Both ingredients in topical anti-aging skin care sounds very interesting but are very new to me. I've read quite a bit about Niacinamide in DIY formulations and was quite keen to try it out. So the Marie Veronique products are a good testing platform for me. Glucosamine on the other hand, is totally brand new to me and I've only read about it recently. I can't take it as a supplement but I'm glad that I now have a chance to try out its effectiveness on my skin. However, because I'm not using either exclusively but rather in combination with other ingredients, I can't comment on their effectiveness as yet. But maybe some of you who have tried them in your DIY formulations can share?
Comments