Hada Labo Super Hyaluronic Acid Products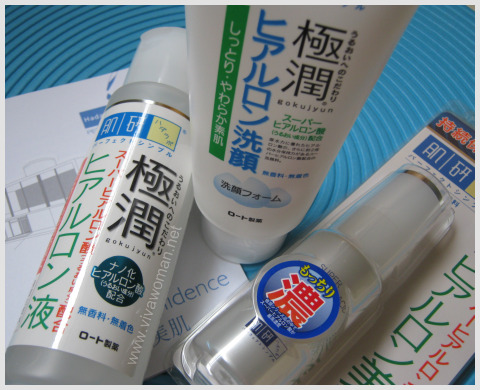 A few weeks ago, I was sent the Hada Labo Super Hyaluronic Acid (SHA) range, comprising the SHA Moisturizing Lotion, the SHA Hydrating Essence and the SHA Hydrating Face Wash to review. Launched by Rohto-Mentholatum Singapore, Hada Labo is positioned as a simple, minimalist and highly effective skincare brand to attain water-radiant skin based on its "Perfect x Simple, no more no less" philosophy. Unnecessary additives such as alcohol, colorant, fragrance and mineral oil that will burden the skin are excluded. Instead, beneficial ingredients such as the Hyaluronic Acid are included. Their slogan "one drop locks up an ocean" really make their products sound very hydrating. So are they really so?
Hada Labo Super Hyaluronic Acid Moisturising Lotion 170ml S$22.90
Ingredients: Water, Butylene Glycol, Glycerin, PPG-10 Methyl Glucose Ether, Disodium Succinate, Methlyparaben, Sodium Hyaluronate, Hydroxyethylcellulose, Succinic Acid, Sodium Acetylated Hyaluronate.
The Hada Labo Super Hyaluronic Acid (SHA) Moisturising Lotion is described as the number one Japan Face Lotion with one bottle sold every four seconds. Like a toner to be used after a face wash, it is supposed to replenish and lock in moisture for complete hydration because it is able to retain twice the moisture of Hyaluronic Acid. I was expecting this lotion to be sticky after watching the commercial but it is not, even after applying 2 to 3 drops. It is not exactly watery but has a slight slip to the feel and like the commercial, my skin had that 'toink-toink' feeling after application. While I do like the fact that the lotion did not leave my skin sticky or greasy, I did not notice that it made my skin more moisturized or radiant. Neither did I get crystal-clear skin as described. I'm not sure if I feel this way because I was already using a hydrating toner prior to using this product but anyway, I used this for about a week before stopping and now, I only use this as a weekly DIY lotion mask using wet cotton pads recommended by Chizu Saeki (click through the link to see a video demo). The lotion seems to perform better for me when I used it as a hydrating mask this way.

Hada Labo Super Hyaluronic Acid Hydrating Essence 30g S$30.90
This is a serum that is to be applied after using the Hydrating Lotion. Again, it doesn't leave the skin greasy and neither did I feel that my skin was exceptionally hydrated. It was just…normal. Initially, I could only use this at night because when I used this essence in combination with the lotion before applying sunscreen and makeup, my makeup streaked after a few hours. However, even after using this in combination with the moisturizing lotion only in the night, my skin broke out with some pimples and I immediately stopped. I can't be sure if the pimples were due to this essence as they could also be hormonal but when I applied this essence to my neck together with the moisturizing lotion, I developed two small pimples on the sides. So I think this product isn't suitable for me. Unfortunately, I forgot to take a picture of the ingredient list and can't pinpoint which ingredient might have caused me those pimply troubles.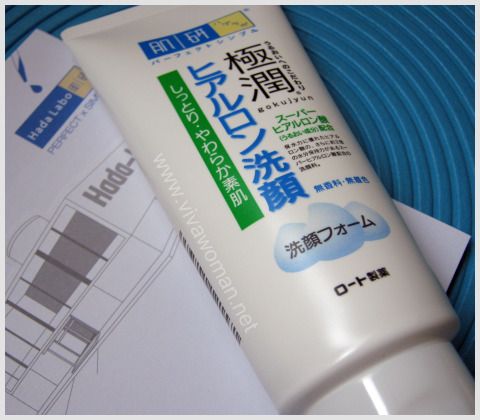 Hada Labo Super Hyaluronic Acid Hydrating Face Wash 100g S$12.90
I have to concede that this is a lovely face wash that left my skin feeling clean, yet soft. I also like that it foamed very well. My skin definitely did not feel dry after using this but I found a very light scent, which reminded me of Kao Biore face wash I used eons ago. If you like foaming face wash that is gentle on your skin and don't mind the non-natural formulation, this one should work and it's very affordable!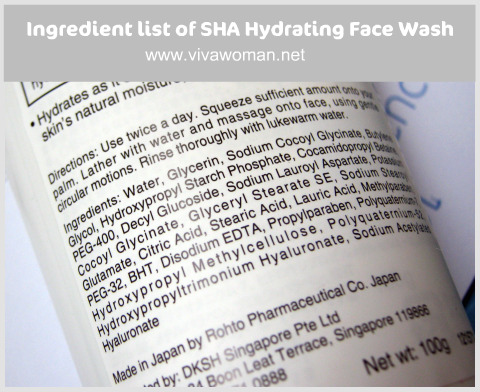 Overall thoughts
You might get a sense from my review that I'm not exactly too excited by the range now. I was particularly looking forward to trying the Hada Labo SHA Moisturizing Lotion with all the hype about it but it turned out to be rather average performing in my opinion. It could be because I've raised my expectations above the bar but I certainly don't see my skin more radiant or crystal-clear as the product has promised. I also don't get that super hydrating feel using the other products so the slogan is just a marketing spin to me. But I have to concede that the products are fairly affordable and you might want to test it for yourself since different products work differently for everyone. In addition, I want to add that I've tried other products in the past using Hyaluronic Acid and they've never performed great for me so it might just be my skin.
Made In Japan
Hada Labo's range of products are available exclusively at Watsons. Unlike some of the comments I've received or seen, the products sold in Singapore are made in Japan. So yeah, you can buy them with some peace of mind!
Comments