How soon do you replenish your skincare items?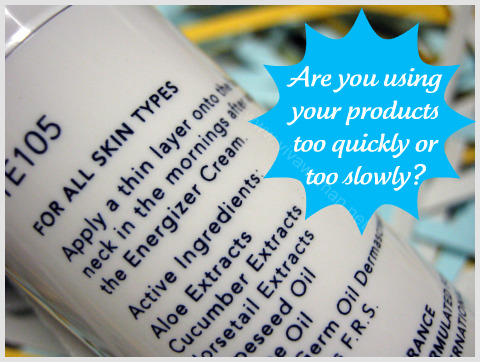 Recently, several readers who purchased skin care products based on some of my reviews have been sending me emails asking me the same questions. How long do you take to finish the product? Why do I use up the lotion so quickly? How can I stretch the usage of the product a little longer? Well, the products in question are costly and hence, these readers are hoping that they won't have to replenish them so quickly. On the other hand, a number of you have also shared through comments left that you take a very long time to finish your creams and lotions. I have also heard that some customers who use the same products as me can actually stretch the usage of the same item by another two or even three months! How is that possible?
How hydrated is your skin?
I've since learnt that it may have something to do with different skin types or skin conditions. Those with drier skin may find themselves having to apply more than the stipulated amount indicated and hence, find themselves using up their products very quickly. On the other hand, if your skin type is not dry and is already well hydrated, chances are, you may find that you won't have to apply that much of your product and yet, you'll feel that a small amount is sufficient for your skin to absorb. In fact, I've come across products that seem to last longer after using them for awhile; maybe the first bottle lasted me for a month but the second bottle lasted me for two months. That's actually quite good because it means the hydration level of my skin has improved over time! So that's something to check if you're using a product that promises to hydrate your skin – has your skin's absorption level of that said product improved after using the product for awhile? Maybe you don't have to apply that much of that product anymore and yet, your skin still feels as hydrated?
How to stretch usage of your creams?
In addition, it's not a good idea to apply more of a product just because you want to gain more benefits from using it. It's best to stick to the amount stated on the instructions. Using more not only means having to repurchase quickly, it may also means clogged pores and unwanted breakouts if you're not careful. Over time, you may be able to stretch the product longer by cutting the dosage by half the amount indicated on the instructions. And with most creams, you won't have to use so much of it if you warm the cream using your fingers and then pat into your face. I've also tried adding a little bit of face mist into my creams to improve the viscosity. However, that's actually diluting the cream so it's not the best idea if your product contains a lot of active ingredients like vitamin C for example.
Which group do you belong to?
So which group do you belong to? Do you find that you use up your products rather quickly and have to replenish them too soon? Or do you find that you take a really long time to buy the second bottle and are wondering if you're using enough of the product? Do you also have any tips to share on how to stretch the usage of skin care items?
Comments