Plant-based omega from flax oil cause acne?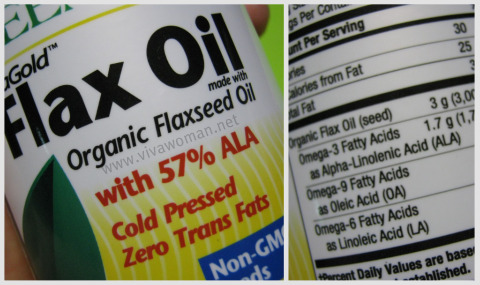 I don't know what to do with this new bottle of Flax Oil supplement. I just bought it but found that it is causing me to break out with red cystic acne around my mouth. Strange, considering flaxseed oil is a natural source of omega essential fatty acids (EFAs) which is supposed to be good for helping skin disorders such as acne, psoriasis and eczema.
Actually, I haven't been breaking out a lot since I started on probiotics to clear my acne but I developed two the day I started on this flax oil. And the reason I made the immediate connection is because avocados, which are high in monounsaturated fats and essential fatty acids also give me acne almost instantly.
EFAs and testosterone production
Anyway, I'm not alone as I read that others also broke out after taking flaxoil or flaxseed supplement according to this forum thread. It seems that EFAs helps with testosterone production but unfortunately, higher levels of testosterone cause the glands to produce more oil, causing acne!  I'm not sure if fish oil has the same effects for me because I took that some time back when I wasn't having issues with acne.
Plant-based vs animal-based omega
Unlike fish oil that contains two omega-3 fatty acids known as EPA and DHA, flax oil is rich in alpha-linolenic acid, which is the "parent" fatty acid to DHA and EPA. Although similar in structure, the benefits of alpha-linolenic acid, EPA, and DHA are not the same. Anyway, my understanding is that flaxseed oil contains plant-based omega and it looks like plant-based omega is not suitable for my skin.
Any of you have experience with flaxseed oil to share?  Did it help with your skin condition or did it make it worse?
Comments