What is the cause of your dark panda eyes?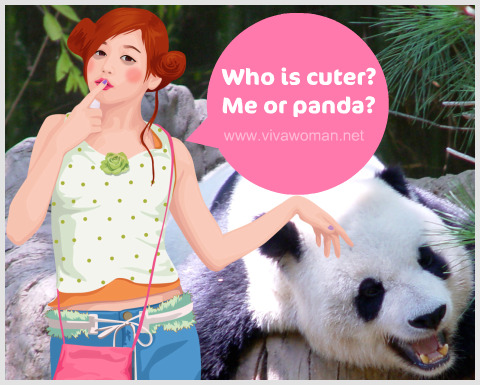 I wouldn't say I have severe dark eye circles but they're apparent when I don't use any face powder. Mine also have a somewhat bluish tint and look more obvious when I don't get sufficient sleep. I've never really given much attention to them actually; I had thought they were just a normal part of my aging process since thinner skin do cause our blood vessels to become noticeable. However recently, a few people who knows something about TCM started telling me that my dark circles are due to a possible kidney imbalance.
Symptoms of kidney imbalance
I ran some quick check and I seem to suffer from many of the symptoms related to kidney deficiency listed on this TCM resource about kidney – amongst which – ailing memory, listless spirit, pale complexion, aversion to cold, weak hair and frequent urination are quite evident.
Kidney and adrenal connection
And interestingly, I found out that there is also a link between our kidneys and our adrenal glands that sit on top of our kidneys. According to this source, the kidney/adrenal connection is the foundation of the body's energy expression. "Adrenal glands respond to pressure that comes into your life and how you respond to that pressure. The adrenals manufacture hormones, one of which is cortisol. Cortisol is important because it keeps your blood sugar levels stable while your body undergoes a stressful situation. This could be physical, emotional or psychological. When your adrenals are sluggish there could be a zinc deficiency and a copper overload in your system. When adrenal function decreases, it can cause symptoms like allergies, low blood pressure, PMS or menopausal symptoms, salt cravings, hypoglycemia or diabetes and/or sugar cravings".
Anyway, I definitely need to head back to the TCM practitioner for a proper diagnosis.  I stopped going because I was feeling very good since my last detox. Unfortunately, the benefits associated with detox seem to be wearing out after three months and I'm beginning to feel lethargic again every day.
Reasons for your dark eye circles?
So do you have dark eye circles?  Do you think the reason for yours is related to kidney imbalance?  Or is it due to other reasons like genetics, iron deficiency or just purely a lack of sleep?
* By the way, I'm really fond of pandas.
Comments