DIY Beauty: eye mask for Kung Fu Panda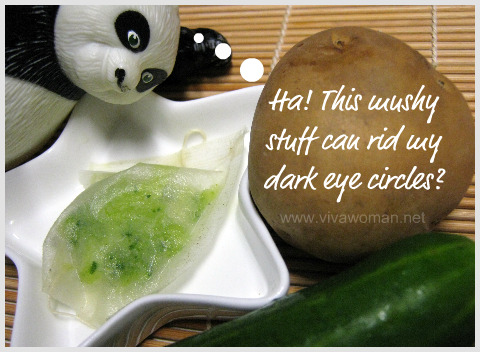 Heya! It's been awhile since I featured a DIY recipe. I read about using grated cucumber and potato for the eyes in a book recently and decided to try this. I knew about using them individually as slices to soothe the eyes but hadn't thought about mixing them together. It's a bit messy, as Po can testify. But he likes it and so I think it's a good recipe to try sometimes. Instead of just placing the entire mixture directly on the eyes, I tried putting the contents in a tea bag and it was perfect as an eye mask!
Benefits of cucumber and potato for the eyes
Both cucumber and potato are useful to reduce puffy eyes because both have astringent properties that can help decrease water retention. In addition, it is said that because cucumber contains high amounts of ascorbic acid and caffeic acid, it is great in minimizing the problem of puffy eyes. Potato juice on the other hand, is also said to be very effective in removing the dark circles around the eye because of its liquid starch content and catecholase, an enzyme in potatoes that is often used as a skin lightener.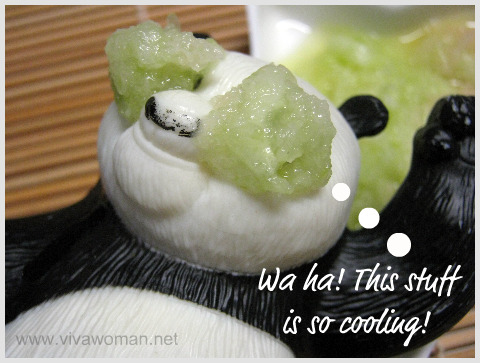 Make an eye mask out of the mixture
This is a very simple DIY home remedy. All you need is to grate both cucumber and potato in equal amount, mix them together, squeeze out the juice so that it's not too wet and messy, and then apply the mixture directly on your eyelids. A better way of doing this is to use a filter bag. I remember seeing empty tea sachets that allows you to put your own tea leaves but because I didn't have them at home, I emptied one of the tea bags containing some Chinese tea and filled it with the cucumber and potato mixture. It was perfect!
Apply the juice to the rest of the face
I'm going to get myself more tea bags for this DIY remedy. It's very soothing especially if you leave it in the fridge first, and does help to relieve puffy eyes. I can't say that much for helping with my dark eye circles though and Po's eyes are still panda eyes! I suppose it will have to take more bags to do that. While using the mixture as an eye mask, I used some of the juice to apply on my face too since both ingredients have skin lightening properties. And like Po, I think this is better than Kung Fu!
Comments