12 anti-inflammatory ingredients against UV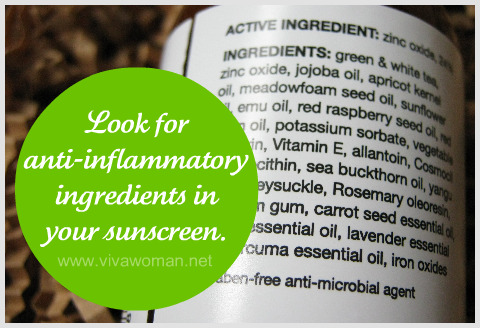 Early this month, I covered the best and safest sunscreen ingredients, and in that entry, I wrote about the effective ingredients that either reflect the UV rays or absorb the UV rays. While those ingredients are great to protect our skin against the sun, they can't block out 100% of the UV rays. Hence, in choosing a sunscreen, it is important to also look for those containing anti-inflammatory ingredients that can prevent damage caused by the UV rays. Here is a list of 12 that I've come across or read about; the list is not meant to be exhaustive so feel free to add on in the comments section if you know of others.
1. Vitamin E
Vitamin E is widely known to be an antioxidant that shows to have anti-inflammatory effects when applied topically. It can help reduce damage and inflammation caused by the sun's rays.  (source)
2. Aloe Vera
Also known as aloe barbadensis, this gel facilitates the healing of wounds and damaged skin tissue and prevents skin damage resulting from exposure to ultraviolet radiation associated with direct sunlight. (source)
3. Green Tea
Besides both antioxidant and anti-inflammatory properties, the polyphenols in green tea are powerful neutralizers of dangerous free radicals. As such, green tea has also shown exceptional protective, and restorative properties against the sun's damaging rays. (source)
4. Grape Seed
This extract is found in skin care product as an antioxidant, anti-allergenic, and anti-inflammatory to promote capillary health and to increase skin elasticity. It also minimizes the cytotoxicity induced by free radicals and UV radiation. (source)
5. Ginkgo Biloba
Along with mild UVB inhibition, Ginkgo Biloba is one of the better ingredients for sun care as it works to prevent the formation of cancer-causing free radicals. It is also effective in reducing the damage done by oxidization and is often used in skin care products to promote collagen production, and for sun damage protection and repair. (source)
6. Pomegrante
This ingredient has powerful antioxidant properties, and has been shown to reduce cancerous changes after over exposure to the sun. (source)
7. Helichrysum
This is the legendary immortelle flower wax, with powerful anti-inflammatory properties to promote healing and cellular regeneration. It is soothing and useful in sun protection because of UV absorption properties. (source)
8. Sea Buckthorn
Sea Buckthorn oil has anti-inflammatory properties and shows moderate absorption in the UVB range. (source)
9. Colloidal Oatmeal
Besides providing anti-inflammatory properties to sooth sensitive skin, some of the oat phenols are also strong ultraviolet absorbers. (source)
10. Silymarin
This ingredient may not be so common but it's taken from the milk thistle plant. There are many studies that show it to be effective as an anti-oxidant, an anti-inflammatory, and for UV protection and repair. It has also been shown to reduce the spread of skin cancer to a certain degree. (source)
11. Tumeric
Turmeric has been used in India and Asia for thousands of years for its anti-aging, anti-inflammatory, anti-oxidant and antibacterial properties and is presently being studied in cancer research. This bio-protectant neutralizes free radicals and UV damage. (source)
12. Borage Oil
This oil reduces the aging process and UV damage as it contains very high amounts of GLA as well as calcium, potassium and mineral acids. It is anti-inflammatory and provides excellent use on prematurely aged and sun damaged skin. (source)
Actually, zinc oxide is often said to be the best sunscreen ingredient because the mineral not only provides complete UVB/UVA protection, but also has excellent anti-inflammatory properties.
Comments