5 things to know about your skin at night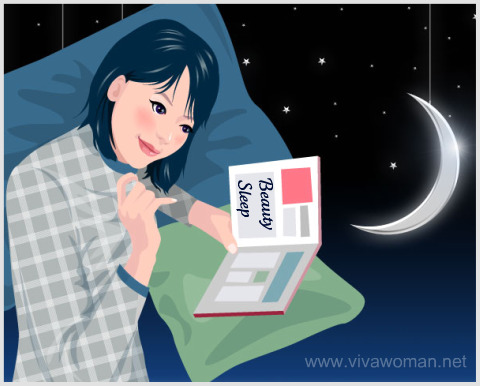 I've been very busy this stretch and there were several nights I considered  "burning the midnight oil". However, I still tried my best to sleep around 11pm because I know if I don't, I would look like hell the next morning. And it's not just getting that eight hours of sleep, it's about getting to bed at the right time and having quality sleep. Here's why:
1. Skin cell renewal rate is higher
Skin cell regeneration is slightly faster at night than during the day according to Alex Khadavi, M.D., associate professor of dermatology at the University of Southern California (source).  This was also highlighted in the book "Good Skin" by Ingried Wood.  "According to our body clocks, different body cells are more active at different times of the day. Skin cells do their repair work most effectively at night. Research shows that skin cell regeneration almost doubles at night, peaking between 23:00 and 4:00. Production of collagen is boosted, harmful free radicals are destroyed and cell damage is rectified."
Tip: Go to sleep by 11pm!
2. Skin is more receptive to active ingredients
It is better to apply products with active ingredients in the night as your skin is able to absorb the active ingredients in skincare products better since active ingredients are less effective when exposed to sunlight.  In addition, your skin would not have to compete with the other products you apply like makeup or sunscreen to fight the UV rays, pollution and other harmful environmental elements in the day.
Tip: Use your vitamin C serum or other anti-aging products at night!
3. Skin temperature is higher
Skin temperature is higher in the night; the body temperature is lower in the morning, due to the rest the body received, and higher at night after a day of muscular activity and after food intake (source). As such, your skin care products can seep deeper into your skin for better results.
Tip: Moisturize your skin before going to sleep.
4. Trans-epidermal water loss is higher
Trans-epidermal water loss (or TEWL) is defined as a measurement of the quantity of water that passes from inside a body through the epidermal layer to the surrounding atmosphere via diffusion and evaporation processes. According to an article written by the Departments of Dermatology and Neurobiology & Anatomy, Wake Forest University School of Medicine, Winston-Salem, North Carolina, USA, TEWL is significantly increased during the night and is minimal during the morning and that is why our skin can sometimes feel more itchy at night.
Tip: Use products that can provide hydration to your skin!
5. Melatonin production increases
Melatonin is a natural hormone made by your body's pineal gland and your body produces more melatonin when it is dark. Melatonin also helps control the timing and release of female reproductive hormones. It helps determine when a woman starts to menstruate, the frequency and duration of menstrual cycles, and when a woman stops menstruating (menopause). Some researchers also believe that melatonin levels may be related to aging. In relation to skin, melatonin is also able to suppress ultraviolet (UV)-induced damage to skin cells and shows strong antioxidant activity in UV exposed cells.  Hence, melatonin may counteract or buffer both environmental and endogenous stressors to maintain skin integrity. (source)
Tip: Turn off all the lights and draw your curtains!
Choose your night care products carefully
One thing to note is that you shouldn't try to over nourish your skin in the night as very rich and creamy creams interfere with the processes of the skin trying to regenerate.  According to Dr Haushka, while you sleep your skin is actually hard at work regenerating itself, balancing oil production and expelling impurities. Regular application of night creams interferes with these essential tasks, and over time skin becomes less able to care for itself. Covering the skin with moisturizer 24 hours a day sends a signal to sebaceous glands to cut down on moisture production, resulting in even drier skin that becomes dependent on moisturizing products just to appear "normal."  Hence, do remember to let your skin breathe!
And yes, I haven't been watching the World Cup matches.
Comments