The best & the safest sunscreen ingredients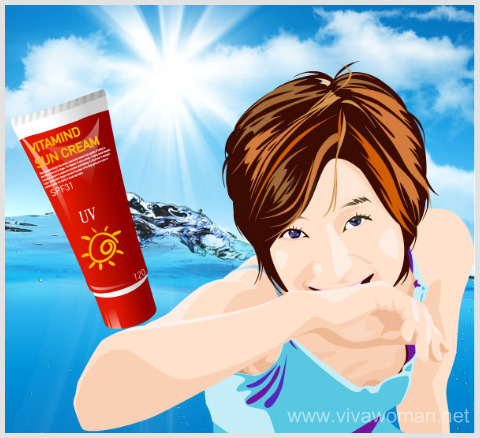 I have been receiving a number of emails from readers asking me to help them evaluate their choice of sunscreens; most of the questions centered around whether their product of choice offer sufficient broad spectrum protection against UVA and UVB rays. I have actually written an entry regarding the effective active ingredients in a sunscreen but today, I'll talk about three groups of active ingredients which I consider to be the best for sunscreens.
Zinc Oxide
This is my favorite sunscreen ingredient because it has worked well for me and it is the choice of ingredient used in most of the naturally formulated sunscreens. Sometimes listed as ZnO, this ingredient is a physical blocker in sunscreens and deflect rays like a mirror instead of diffusing them. In certain formulations, this ingredient also leaves an unattractive white cast on the skin but it offers full broad spectrum protection on its own.  If your sunscreen contains only Zinc Oxide, my understanding is that the content should be at least 16% to be effective.  If the content is lower, it should be combined with other active ingredients and usually, it's Titanium Dioxide. However, a high amount of zinc oxide can be too drying for some skin type and as such, might lead to breakouts. According to information from the Environmental Working Group, Zinc Oxide is rated to have a moderate health hazard with a rating of 4.
Many sunscreens especially mineral-based ones contain Zinc Oxide.  I use Marie Veronique Face Screen Plus which contains 24% Zinc Oxide.
Mexoryl XL & SX 
Mexoryl is the trade name for Drometrizole Trisiloxane (Mexoryl XL) and Ecamsule  or Terephthalylidene Dicamphor Sulfonic Acid (Mexoryl SX).  These two ingredients are developed by scientists at L'Oreal and when used together, provide complete protection against both UVB and UVA rays. As written in my early entry about Mexoryl sunscreens, the two Mexoryl molecules are able to work synergistically with each other and with other sunscreen filters including Avobenzone, Titanium Dioxide and Zinc Oxide to provide full spectrum protection against both UVA and UVB rays.  In addition, Mexoryl SX has a low health hazard at level 2 and Meroryl XL has a moderate health hazard at level 4 according to the Environmental Working Group. 
For sunscreens containing Mexoryl, you can look at those from L'Oreal, La Roche-Posay, Kiehl's or Vichy.
Tinosorb S & Tinosorb M
Tinsosorb S is also known as Bemotrizinol (bis-ethylhexyloxyphenol methoxyphenyl triazine) and Tinosorb M is also known as Bisoctrizole (methylene bis-benzotriazolyl tetramethylbutylphenol).  These two ingredients are hybrid chemical UV absorbers and reflectors manufactured by Ciba, widely available in European brands of sunscreens, but have yet to be approved by FDA. Tinosorb S is oil soluble while its counter part Tinosorb M  is water soluble and both are said to be highly photostable, working as a physical sunscreen and a chemical sunscreen, shielding and protecting the skin. And according to information from the Environmental Working Group, Tinosorb S has no health hazard rating but Tinosorb M has a low health hazard at level 1.
For sunscreens containing Tinosorb, you would want to look at products from Avene, Bioderma, Eucerin, RoC and Uriage.
Summary
Most mineral-based sunscreens or physical sunblocks contain only Zinc Oxide and or Titanium Dioxide.  If yours fall under this category, make sure it has sufficient Zinc Oxide.  Most chemical sunscreens include a myraid of sunscreen filters.  However, the two I've covered – Mexoryl and Tinosorb – are considered photostable and offer protection against both UVA and UVB spectrum.  Your best bet are using sunscreens containing either of the two groups.  Personally, I've used chemical sunscreens containing Mexoryl when I'm out under the sun for a prolonged period of time and have found them to be photostable.
Comments