Can adults use sunscreens for babies and kids?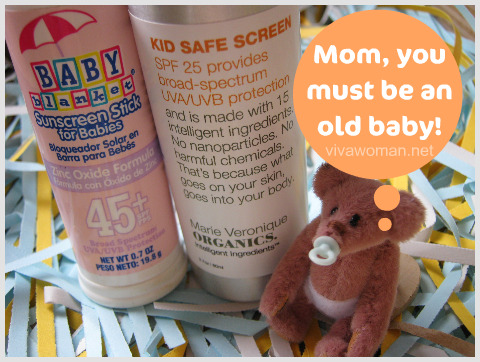 I'm a bad mommy and my boy doesn't know it; I like to nick his sunscreen. I also like to check out new sunscreens for babies and kids, with the excuse that they're meant for him but I always end up trying them out first. In fact, I've ended up just using his sunscreen at the pool many a times because I was too lazy to pack another tube. So the question that begs asking is: are sunscreens for babies and kids good enough for adults?
Contain active sun protection ingredients
My answer is yes, if they contain active ingredients that provide broad spectrum protection against both UVA and UVB rays. To know which are the active ingredients, you can check out my last post about the best and safest sunscreen ingredients.
Contain lesser amount of potential skin irritants
Because children's skin are far more delicate, I would recommend for them to use physical sunblocks or mineral sunscreens containing zinc oxide and/or titanium dioxide and not those that are chemical based. This is because their skin is thinner than ours and they can absorb more potential irritants. As such, most sunblocks or sunscreens developed for infants and children are suitable for sensitive skin due to lesser amount of ingredients that could irritate their skin. Hence, they're suitable for adults. And since we're on the topic, mothers may like to know that it is not recommended to have babies under one out under direct sunlight for prolonged period even with protection because their skin is five times thinner than ours (source).
Adult-friendly sunblocks and sunscreens
There are many adult-friendly baby sun protection products in the market that offer UVA/UVB protection and are petroleum, paraben and fragrance free. I've tried Earth's Best Baby's Sunblock Chemical Free Sunblock SPF 30+ and Baby Blanklet Zinc Oxide Sunscreen Stick SPF45+. I am currently testing out Marie Veronique Organics Kids Safe Screen. Another one that I'm looking forward to trying is Yes To Carrots 100% Natural Daily Sunscreen with SPF 30 that hasn't been launched yet.
Adult formulations not suitable for kids
However, having said that children's sunscreens are suitable for us, I still prefer to use a formulation that is developed for adult skin because they would usually contain beneficial ingredients that can help us fight skin aging or pigmentation. These ingredients are typically not found in children's products as they don't need it. For this reason, I wouldn't use my sunscreens on my boy as these ingredients are obviously not useful for him at all. The only exception are those that contain minimum ingredients besides zinc oxide and/or titanium dioxide.
So have you tried using any sunscreens for children that you like?
Comments