Do foam cleansers cleanse better?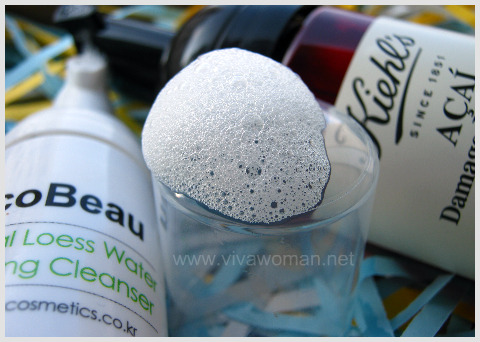 It's a coincidence that of the products I received last week, two were foam cleansers of natural and organic formulation. I noticed that there are increasingly more of such products in the market. Besides the Kiehl's Açaí Damage-Minimizing Cleanser and Ecobeau Loess Water Cleanser that are featured here, others that I've come across include Nutriganics Foaming Facial Wash for example. I used to call the cleansers I use foaming cleansers but these are unlike those I use which are really cream or gel based and need some water to work into a lather. These are actually liquid cleansers contained in a pump bottle that disperse a lightweight fine facial cleansing foam without further need for additional water.
||What I like about them||
1. They are fun and convenient to use
My first foam cleanser was the L'Occitane Immortelle Brightening Cleansing Foam. Undeniably, these foam cleansers are a novelty to the first time user. I mean, who doesn't like foam? Plus, it's fun to disperse foam directly from the pump bottle and not have to work a lather to get a foamy facial wash. You can say it's more convenient too.
2. They're usually gentle on the skin
Although you see a lot of foam, but most of them are not drying on the skin as they're mostly sulfate free. Hence, you can use a few pumps of the foam and still do not feel that your skin becoming overly drying.
3. They cleanse pretty well
Most of the formulations I've tried cleanse the skin quite well. You may need more help with a thicker eye makeup but as a whole, you should find your face quite clean after using such a cleanser. It is said that Japanese women like to use foam cleansers to keep their skin clear. I believe however, that the secret of their clear skin is due to double cleansing with a foam cleanser.
||What I don't like about them||
1. They are rather deceiving
The foam is deceiving as it seems you're using a lot of the cleanser just with one pump. However, if your face is quite oily, you'll probably need about two pumps of the foam to cleanse thoroughly. Hence, if you're going to use this to cleanse your face of makeup, then you're going to need at least three to four pumps and you'll still need to double cleanse.
2. They don't last as long
So as a whole, these foam cleansers do not last too long and they deplete really quickly because you'll need to use more than one pump most of the time. Cost per use is definitely higher than the usual cleansers and that was why I didn't repurchase the L'Occitane Immortelle Brightening Cleansing Foam as it was too expensive.
Do they cleanse better?
And the big question is, do they cleanse better than the other types of cleansers? Personally, I like them better than cream or milk cleansers. I also like to use them after using an oil cleanser. I do find they cleanse pretty much the same as my usual lathering cleansers but if you ask me to choose, I'll prefer my usual cleanser anytime as I don't use so much of the product just for one cleansing session. In addition, I feel the cushion effect is better with a cleanser I can work into a lather.
Agree or disagree? Share your thoughts on foam cleansers with me and if you have a particular favorite, tell us too.
Comments