Six different useful ways to use your hand sanitizer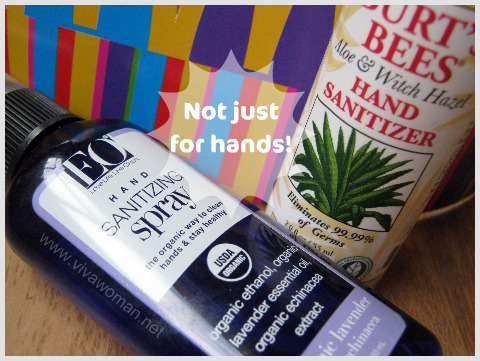 Since the last rampant spread of the H1N1 virus, I've been carrying a hand sanitizer in my bag. The truth is, I hardly use it as a hand sanitizer as I usually wash my hands at the sink. However, I have found some other useful ways for the hand sanitizer.
1. Sanitize the air
I use Burt's Bees' Aloe & Witch Hazel Hand Sanitizer in spray form. It contains 60% Ethyl Alcohol and some natural fragrance. The scent is very refreshing and I like the smell whenever I get to use it. However, I don't use it on my hands as often as I spray it in the air. It started when I walked into an elevator with a disagreeable odor and I whipped out this bottle to spray around the empty elevator in desperation. It worked great as the scent from the hand sanitizer managed to mask the overwhelming stench. So from then on, I use this as an air freshener whenever I have to.
2. Sanitize the toilet seat
On occasions, I find myself having to help my son in the public toilets with his "big business". But you know how the seats in those toilets are; I could never trust the level of hygiene. So I started using the hand sanitizer as a toilet seat wipe. Those sanitizing wipes are easier to use of course but with my spray bottle, all I need to do is to spray a generous amount on the toilet seat and then tissue off before having my son sit on the throne.
3. Sanitize soiled tables and chairs
Okay, this is good for those who are paranoid about hygiene. I rarely use the sanitizer for this purpose but it is something useful when traveling if cleanliness is an issue at certain public places.
4. Sanitize your armpits
This is a bit embarrassing but I forgot to bring any deodorant during a getaway and the closest I could find in my stash was the hand sanitizer. Since it contained alcohol, I figured it can get rid of those odor causing germs. It did help to some extent; a desperate measure to keep the dogs from sniffing at my underarms at least.
5. Sanitizer your cell phone screen
How many times have you heard or read that your cell phone screen is a breeding ground for bacteria? This means that using it could potentially dirty the side of your face. For those who are acne prone, this isn't great news. Well, whip out that hand sanitizer and spray it on your cell phone screen, then give the screen a good wipe! And you can do it as often as you wish!
6. Sanitizer your eye or sunglasses
For those who use use eye or sunglasses, hand sanitizer is great for times when you need to clean them. Spray, wipe and your glasses will sparkle in no time! And you have no more specks or spots to distract your focus now.
As you can see, hand sanitizers are quite useful, and can serve you in a few different ways. And in certain cases, it befits the saying "desperate times call for desperate measures"!
Comments