Six different ways to apply skin care products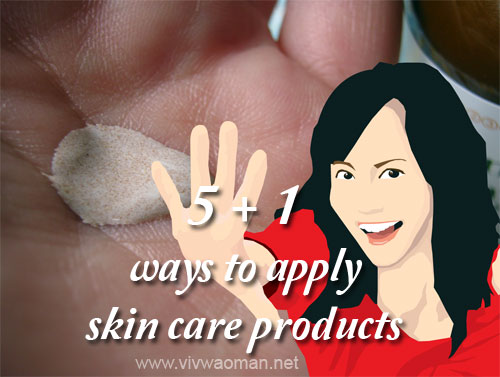 Recently, I placed an order for a product that I didn't like so much in terms of application. I had some problems applying the product the first time but because I had loved the results from using it, I decided to re-order the product and then apply it a different way. This first time around, I blended the product into my palm and then patted on my face using my fingers instead of sweeping the lotion over my face! It was a lot easy and better this time! So this got me thinking of writing this post about the different ways we can apply our skin care products.
1. Apply a pea size amount with your fingers
This should be the most common way where you squeeze a pea size amount into the center of your palm, and then using the fingertips of the other hand to apply onto your face. This is probably the method I use most frequently and I typically start by applying the product onto both my cheek area before my chin area, my forehead and then moving down to my nose. I usually use this when applying face cream and sunscreen.
2. Warm the cream using the center of your palm
This method is good for really thick cream, which I learnt when I was using Creme de Lar Mer a couple of years back. Because the cream is so thick, you should use a pea size amount or even lesser, place it into the center of your palm then rub, or pat both your palms together to "warm up the cream". Certain creams may liquify but others may just turn a little less creamy, which allows you to easily apply onto your face without the thick consistency.
3. Apply 5 dots on your face and blend
I hope I won't offend anyone by saying this but somehow, I associate this method with the old school of skincare. In the past, many beauty consultants seem to encourage this approach of skin care application and it's even stated on the instructions of some products. The 5 dots denote applying a small blob of cream on your two cheek area, your nose, your forehead and your chin. I believe it is still a common skin care application technique and I find myself going back to this approach when I apply my face mask. However, I tend to apply more than usual when I use this 5 dots method.
4. Pat the cream or lotion into your face
This is a common way to apply facial toner if you don't use a cotton pad. Pour the toner into the center of your palm and then using your fingers to lightly pat or tap into your face. Actually, I'm not very gentle whenever I use this method. I literally slap my face in an energetic fashion whenever I apply my face toner. It's kind of for fun and at the same time, I believe it helps to aid blood circulation and increase absorption of the toner.
5. Press the lotion or oil into your face
If you've use some of the Japanese lotions, then you should be quite familiar with this technique. Again, you'll pour the lotion into the center of your palm and then using the other palm, press both hands together and then continue to press the lotion into all areas of your face. I use this method when applying my facial oil.
6. Massage the cream, lotion or oil into your face
This is actually an extension of any of the above methods, followed by a more intensive massage on your face. I do that using my facial oil. After I have pressed the oil onto my entire face, I then proceed to massage the oil on my cheek area, using one or two hands in an upward, outward sweeping fashion starting from my jawline to the area near my ear.
So how do you normally apply your skin care products? Are there any other ways you can share with us?
Comments