Natural breast firming cream: are you game?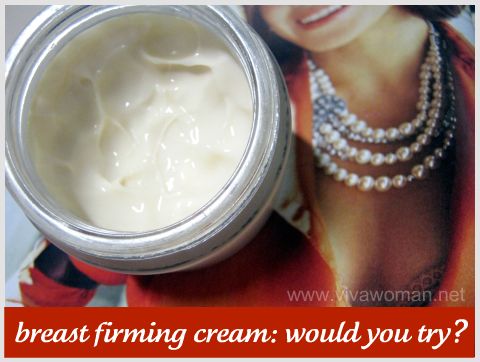 Some months ago, I received an email asking if I was willing to try a natural herbal cream that will increase my breast size. I deliberated over the offer for awhile but decided to turn it down. I used to be a cup C but shrank to a cup A promptly after I stopped breast feeding my son. So yes, I do need some help to augment my bustline but I just wasn't ready to experiment at that time.
Use of natural herbal cream
Then two months ago, I started using a herbal cream (click through if you're interested to find out about the cream); I was still breaking out around my mouth and thought the cream might help to curb those hormonal outbreaks. I applied the cream once a day to my tummy, my adrenal glands, inner thighs and underarm but stopped short of applying it on my breasts according to the instructions. However, curiosity got the better of me and about three weeks ago, I started to apply some of the cream at the sides of my breasts. And holy moly, they've become firmer now! I'm now wondering if I should apply the cream on the entire area just to find out if I can ever revert to being a cup C. o(#k8SjZc9Dxk#k8SjZc9Dxko)(o#k8SjZc9Dxk#k8SjZc9Dxk)o
Natural breast enhancing herbal ingredients
Actually, it isn't a surprise to find that the cream is working to firm my breasts as it contains herbal ingredients like chasteberry, fenugreek extract and yam powder that have been widely associated with breast enlargement and milk production. These herbs, along with others like saw palmetto, dong guai and fennel, have been used as natural breast enhancers for the longest time.
Ingredients regulate female hormone levels
However, while they're natural, they affect the breast size through the regulation of the female hormone levels, in particular, estrogen, progesterone and prolactin. I have read about how estrogen, given on its own, can stimulate the growth of tissue in the uterus and hence, I would not want to overuse these ingredients but rather, exercise some level of caution with them. Perhaps this was really why I've declined to check out breast enhancement cream offered to me; I wasn't sure if the ingredients will create any lopsided effects for me. But still, I won't deny that it's definitely way better than going under the knife to add silicone or saline to my breasts.
Are you game?
I know I sound contradicting since I'm already using the said herbal cream to regulate my hormones but I have no plans to use the cream on a long term basis. Well, that aside, I'll be interested to hear your thoughts on this one. If you're particular about your bustline, would you use a natural breast enhancing cream to augment the size?
Comments