DIY Beauty: a quick caffeine eye bag fix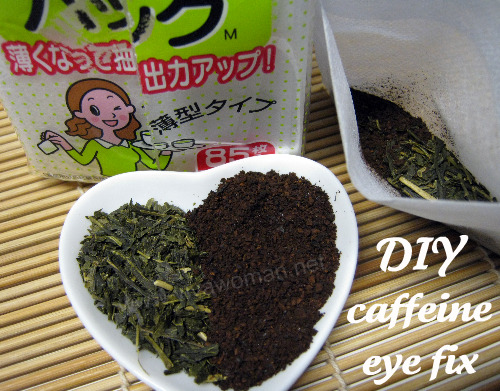 I'm on a roll with caffeine! If I'm not drinking it, I'm using it for my skin.
For those who remember, my last DIY beauty post was about a caffeine scrub using ground coffee powder. But since writing that post, I've developed rashes on my body and I can't use any body scrubs at the moment. So what do I use the big packet of ground coffee powder? How about a DIY caffeine eye bag fix? And instead of just using the ground coffee in this beauty remedy, I've also added green tea leaves that contain caffeine as well.
Benefits of caffeine for the eye area
Caffeine is widely known to reduce puffiness, ease swelling and increase circulation when used around the eye area as the ingredient is able to help shrink the blood vessels. You probably have come across several eye creams containing caffeine. I'm not sure whether they work but you can always start off with caffeine on your eye area with this simple DIY recipe. In fact, some are even suggesting that caffeine is helpful in reducing dark circles under the eyes and Rennie just mentioned in this entry that her friend has success with using tea bags to reduce dark circles after a month. I guess the success rate will depend on the severity and causes for the dark circles.
Benefits of tannin for the eye area
Green tea on the other hand contains caffeine and tannin, and the later is said to diminish water in the tissues and tighten the skin around the eyes. It is also said to work on dark circles by decreasing the dilation of the blood vessels under the eyes. Green tea also contains a high level of polyphenols that work well as antioxidants for the skin.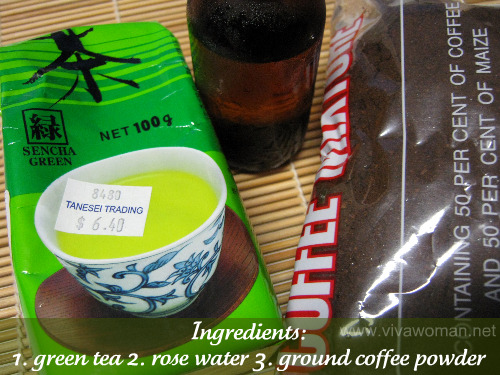 Ingredients
These are the three ingredients I used:
– two tablespoons of ground coffee powder
– two tablespoons of green tea leaves
– one tablespoon of rose water (optional)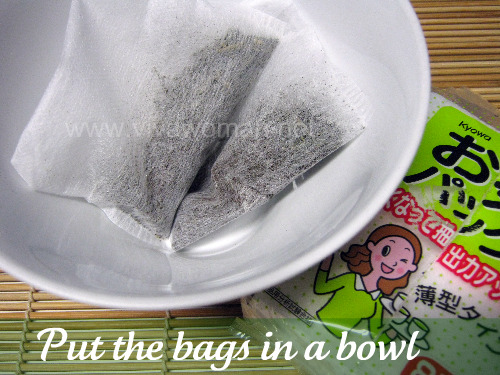 Disposable tea bags
I bought a pack of the disposable tea bags for my DIY eye mask but these bags are great for this recipe too. Just divide the portion of ground coffee powder and green tea leaves equally and put them into two of the tea bags. Place the two bags into a clean bowl.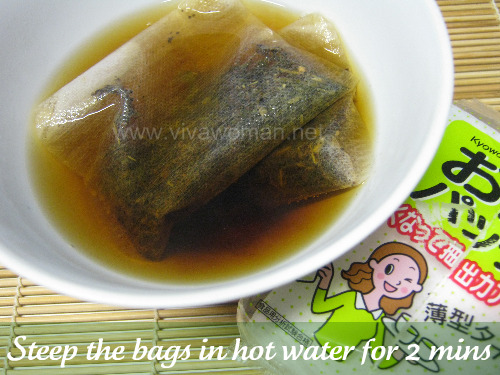 Steep for 2 minutes
Pour steaming hot water into the bowl and steep the bags for two minutes before throwing away the water. Do not steep them any longer or the caffeine could lose its potency.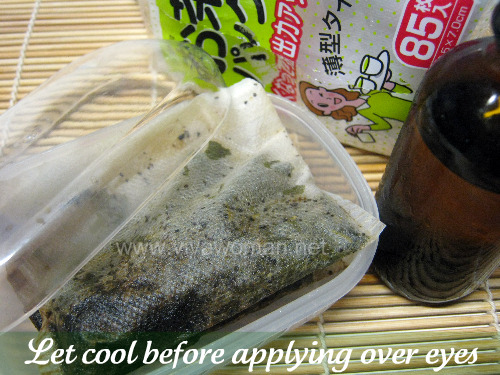 Use warm or chilled
Let the two bags cool down, squeeze out the excess water but not too dry as they should be kept damp. You have an option of either placing them on your eyes while they're still slightly warm or even using them after you've chilled them for awhile in the fridge. I read that using them warm can help increase blood circulation around the eye area. If you use them chilled, they'll help to soothe and relax your tired eyes. I've tried both but the cooled bags seem more pleasant in our warm weather. What I do is to douse the bags with a little rose water to increase the soothing effects before placing them on my eyes. And I also feel an immediate tightening effect around the eyes using them this way.
Used tea bags are possible
Okay, some of you are probably thinking this is too much trouble and why not just settle for used tea bags. That's possible of course, but this is fun to me and anyway, I'm loving these disposable tea bags. They're so handy in my DIY eye recipes. I found them at a medical hall in Serangoon Gardens going for $3.50 per pack and I have 85 bags to play with. So I'm definitely going to have my fun with all of them!
Comments