National Day fashion inspiration in red & white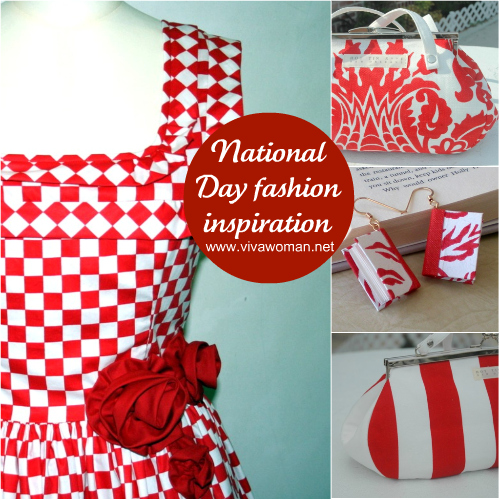 Do you wear red and white? That's the color of the Singapore flag. Red symbolises universal brotherhood and equality of man, while white signifies pervading and everlasting purity and virtue. Then there is the crescent moon that represents a young nation on the ascendant, and the five stars stand for the nation's ideals of democracy, peace, progress, justice and equality.
Well, I don't wear red and white anymore because once I tried, my husband immediately declared that I was the national flag! But inspired by our National Day tomorrow, I've hunt down some pretty cool outfits and fashion items from Etsy that are in red and white. Well, they don't look like our national flag do they?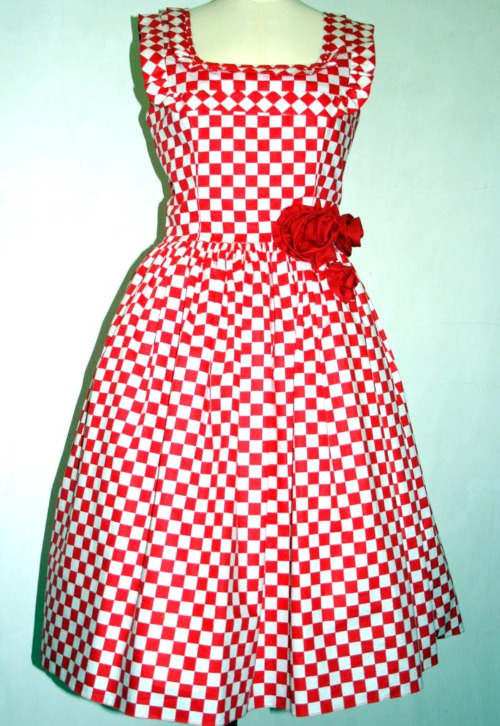 1950s Vintage Style Red and White Gingham Dress US$195
Wow, a really sweet and classic 1950s style dress with a fitted bodice and very full skirt.  Comes with a layer of tulle netting for added fullness.  Don't you just love the red flower detail at the waist?
Found at Viola Vintage.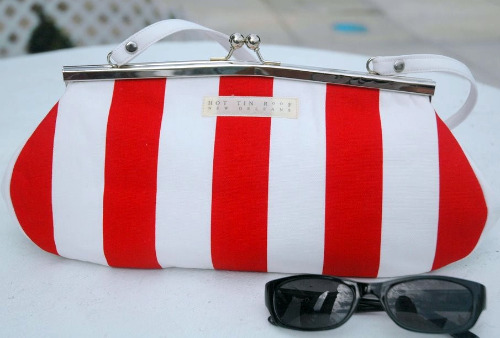 1940's Vintage Style Handbag NORMA Red Canopy Stripe US$28
A gorgeous looking 1940's vintage-inspired handbag with a nautical, beachy feel but in lipstick red and white cotton canvas. gives NORMA a nautical, beachy feel. I love the gently peaked kiss-lock frame and a slender shoulder strap as that definitely adds to NORMA'S 1940's appeal. She measures a full 14″ wide, and so should be able to contain quite functional too!
Found at Hot Tin Roof.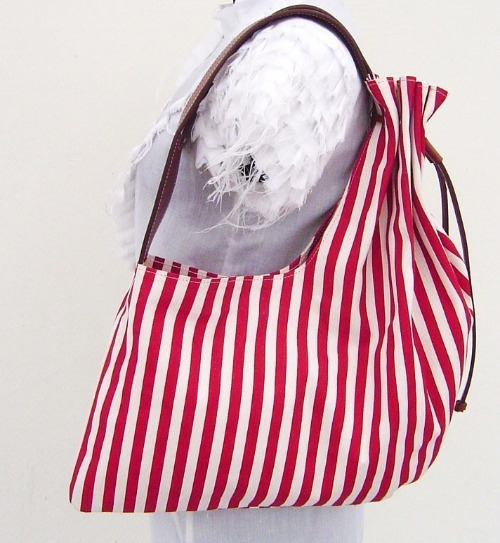 QUOTE Canvas N Leather Saddle Drawstring Bag US$78
This saddle bag is totally unique with drawstring on one side of it. Measures 10″H x 15″W and comes with contrast leather trim with one zipper pocket and one leather cell phone pocket. Love how fun it looks when worn on the shoulder.
Found at Quote Bag Studio.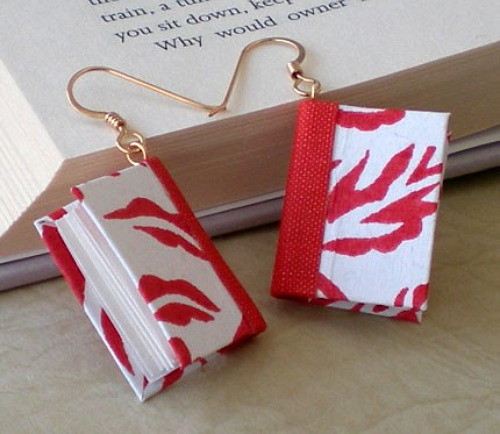 Red Dynasty Book Earrings US$17
Wear this interesting pair of mini book earrings with flame patterns of Chinese red on a bright white background. It's handmade with handmade Indian cotton rag paper, with inner pages of Brockway text paper, bound with Italian bookcloth and 14kt gold fill earwires. Perfect for the book lovers!
Found at The Small Book Company.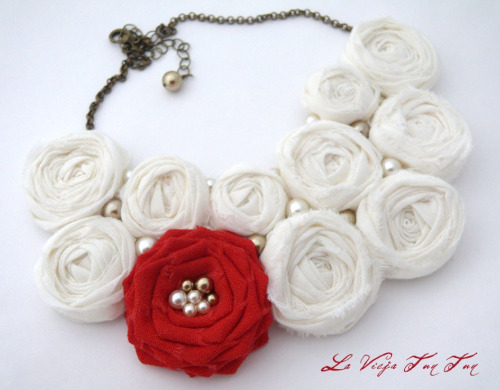 Rosettes and a Single Red Rose Bouquet/ Statement Bib Necklace US$56
Definitely a beautiful and unique statement necklace with ivory/light cream distressed rosettes made out of a light weight cotton fabric,with a single red rose made out linen fabric, and assortment of cream and gold glass pearls, and a brass chain.
Found at LaViejaTunTun's Shop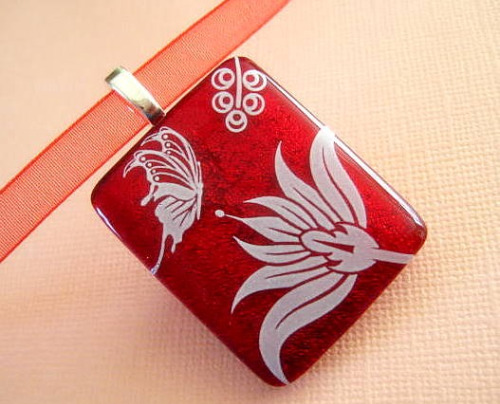 Cherry Red Butterfly Floral Fused Dichroic Glass Pendant Necklace US$22
If you prefer something simple, then pick this glass pendant necklace with image of a delicate white butterfly fluttering towards a large bold white flower, with a smaller flower in the top corner. The red organza ribbon necklace gives it an added feminine charm.
Found at Luv2Hav.
Okay, I'm short of shoes…I'm leaving you to hunt for them yourself!
© www.vivawoman.net copyright notice ☺
______________________________________________________________
Comments