Share: your best way to get rid of blackheads?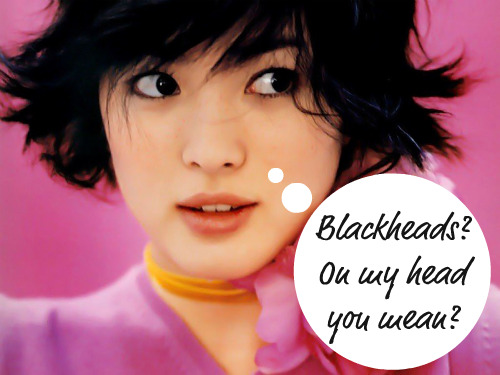 I wonder if everyone gets blackheads on their noses. Called comedones by dermatologists, these facial pests are a result of the waxy oil that accumulates on our skin. The expert explanation is that when a minuscule globule of sebum collects at the top of a pore, a whitehead develops. When the waxy oil hardens, plugs the pore and is exposed to air, it turns black through oxidation and becomes a blackhead.
I used to get a lot of blackheads, particularly on my nose. Now I still get them but they seem lesser by comparison because my T-zone is not as oily as before. I've tried various methods to get rid of my blackheads, including:
– rubbing baking soda mixed with water on the area.
– rubbing a mix of baking soda with lemon on the area.
– rubbing mashed tomato on the area and leaving it on for 10 mins.
– exfoliating with Cure Natural Aqua Gel.
– applying Cellnique Pro Sebum Gel (now rebranded as B.liv)
– using pore pack nose strips.
But they only help to an extent. The best way I found is actually to squeeze them out with my bare fingers after a warm bath and then applying toner afterwards to the area.
Care to share with me what's your best method to get rid of your blackheads?
Comments