Asian skin is less prone to getting sunburn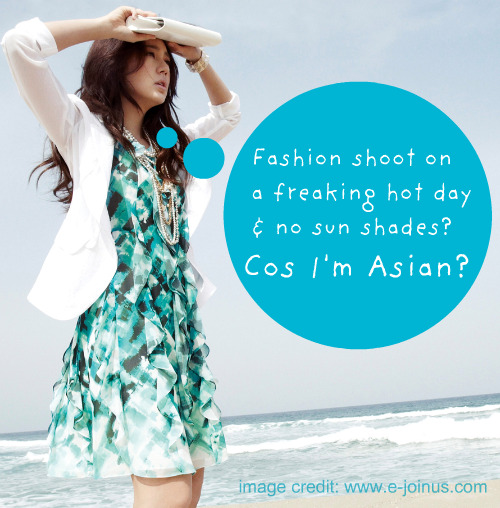 Last week, a reader by the name of Meredith L had left a comment in my entry that reviewed the Marie Veronique Organics Kid Safe Screen, telling me how their family were sightly sunburnt after using the product for an afternoon. According to her, it wasn't a bad burn but she wasn't too pleased because it was noticeable. I had replied that the sunscreen had worked for my boy when he goes swimming in the afternoons and I wondered if the difference in reactions could be due to the fact that we're Asians and therefore our skin behave differently to sun exposure. Since then, I've made further verifications to confirm that and here are the facts.
Most Asian skin do not burn as easily
Asian skin contains more melanin especially compared to light Caucasian skin. This means that Asian skin has a built-in SPF that helps prevent burning of the skin by the sun. While this built-in SPF helps prevent sun damage, premature skin aging and skin cancer, it also means that our skin can tan more easily and possibly get discolored when irritated by harsh cosmetics or aggressive dermatological procedures. (source). This was also confirmed in Textbook of Aging Skin by Miranda A Farage, which stated that Asian skin differs from Caucasian skin in both structure and physiology. As a result of these distinctions, Asian skin with their darker pigmentation respond differently when exposed to ultraviolet light, lasers and other light devices.
Why this fact matters at Viva Woman
Most of you are aware that I use the Moisturizing Face Screen Plus from Marie Veronique Organics. The product isn't formulated for Asian skin but it has worked very well for me. However, if you're a non-Asian reading my reviews on sunscreens, then it is important that you be aware that I have Asian skin type that varies from yours. Hence, the results after using a sunscreen will likely vary. This also means that you need to be careful in choosing sunscreen products that are specifically developed for Asian skin types.
Sun care for Asian skin is still important
For the Asians, don't go sunbathing yet just because you've just learnt that your skin has built-in SPF. Precisely because our skin is less susceptible to getting sunburn, we may not realize the long term danger from being exposed to UVA rays. Additionally, the fact still remains that sun-damaged Asian skin can discolor and age to a heightened degree due to its higher pigmentary content and increased loss of subcutaneous fat. I also understand that some Asian skin type can still get sunburned or suffer allergies from sun exposure. So it's still very important that you provide your skin with adequate sun protection.
Comments