Clarins Hydra-Luminous Powder Foundation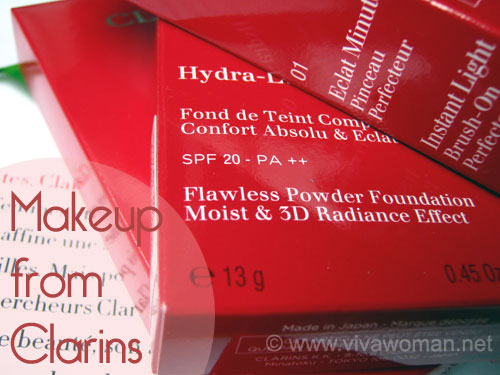 I don't know if you've noticed but I hardly review products from the usual big department store brands. So I guess some of you may find it a surprise that I'm reviewing the new Hydra-Luminous Flawless Powder Foundation SPF 20 – PA ++ from Clarins today. Well, I was using the Shiseido powder foundation and I was curious how this new product will measure up because it is said to be a high-performance formula with a concentrate of plant essences specially designed for Asian women to provide a moist and 3D Radiance effect with long lasting comfort.
The products you see here – the Hydra-Luminous Flawless Powder Foundation and the Instant Light Brush On Perfector – were sent to me complimentary from Clarins. I only told them that I'm very fair and they've sent me two shades for each of the product. I wasn't quite sure which shade to use and actually went to one of the Clarins' counter to ask for advice. So let's begin by looking at how the powder foundation stack up.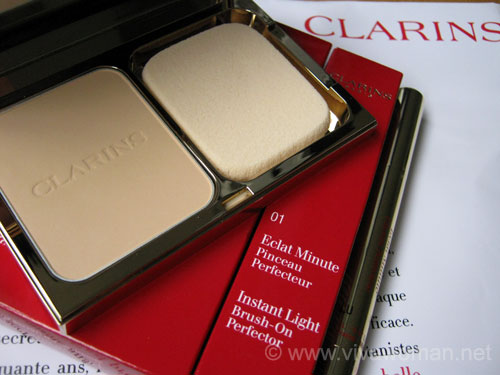 Clarins Hydra-Luminous Flawless Powder – Case S$20 & Refill S$55
According to the description, this product contains hydra-capsules containing plant essences of rosemary, camomile and ginkgo biloba. On contact with the skin, these plant essences are instantly dispersed, progressively diffusing their stimulating and hydrating properties to deliver a continuous action all day long. The pigment reflects all wavelengths of the light spectrum, in other words, very pure, white light. This maximum reflection highlights these areas, giving them maximum light and enhancing contours.
Shades and application
I found 01 and 02 rather close and suitable for fair skin tones. To my untrained eye, 01 Linen appears to have yellow undertone while 02 Petal has pink undertone. Typically yellow undertone works better for me but according to the Clarins' consultant at the counter, 02 Petal is a better shade for me. I was skeptical but the pink undertone wasn't evident when I applied though. In fact, I thought the shade was very white for my face. 01 Linen, which I later tried, also yielded about the same results. Okay, this is tricky because my Shiseido foundation was slightly darker but worked perfectly with my MVO sunscreen, which does leave a slight white cast after application. So the problem was due to the slight white cast from my MVO sunscreen.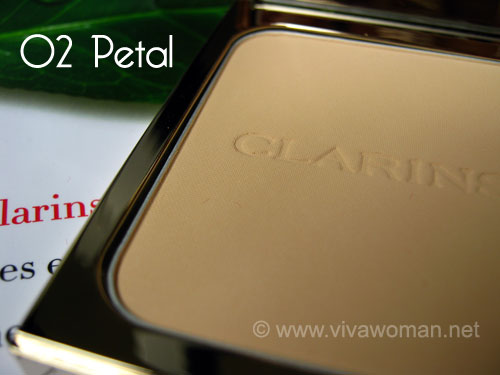 Before and after
It took me awhile to get used to the shade but whenever I asked people around me if my makeup looked okay and if I looked too white, they always said I look fine. So I guess the best is to take a picture to compare and here is how I look before and after using the powder foundation. The second picture was taken in the bathroom so there wasn't light reflecting on my face. The third picture was taken under natural lightings from the window in my bedroom. Noticed the difference?
Wearability factor
I applied the foundation with a rather light hand using the Everyday Minerals Flat Top Brush and I didn't bother to conceal my blemishes. I don't know about the 3D contouring effect, but this foundation does live up to its name in terms of delivering radiance when it comes into contact with light and still make my skin look rather natural. Even without the light, the finishing is quite dewy. Although it looks a little dry when I first apply on, but the powder seems to sink in after awhile and I was able to wear it all day long without it caking up or streaking, provided I do not use the concealer.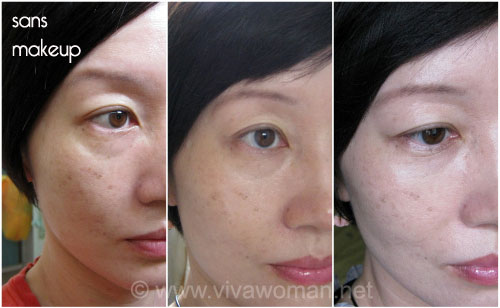 Instant Light Brush-On Perfector S$45
Okay, this one I have to say I don't fancy. I wasn't aware they were going to send me a concealer and the thing is, I've almost stopped wearing concealer except for special occasions. I'm for au naturel these days (read: lazy) and for the moment, I like to use the Ecobeau BB Cream Plus for my undereye area. Anyway, this concealer comes in four shades and I gave the 01 a try. It comes as a pen, and reminds me a little of the Elizabeth Arden Illuminating Pen although the clicking mechanism doesn't work the same way.
Drying for my undereye area
The reason why I don't like this is because it seems a tad drying as the powder creased up on my undereye area and the fine lines were all accentuated after a few hours. On other parts of the face, it worked fine though but I don't find it very much different from other concealers really. It's supposed to give luminosity and radiance but I didn't quite notice that effect though. And just to be clear, I didn't use this concealer at all in the picture you see above.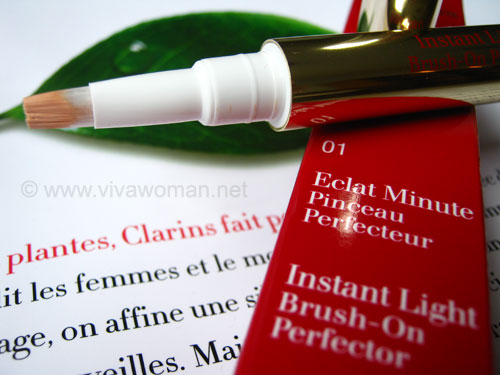 Overall summary
So I'm not in love with the Instant Light Brush On Perfector. As for Clarins Hydra-Luminous Flawless Powder Foundation, it really took me a week to get used to the product because of how it makes my face look whiter. But as I wore on, I've come to like it more because the finishing is quite good and I don't need to top it off with a finishing powder to get the dewy radiant effect. While the powder is said to contain the moist factor, but I do find it a tad drying upon initial application. However, as the day goes on, the powder sinks in nicely and I don't see any caking nor streaking. Perhaps the heart factor for me is that this powder makes me look natural and not thickly made up like some foundation powder does. It might also have to do with the fact that I use a kabuki brush for application rather than a sponge. Maybe others who have tried this can share their thoughts?
For more information on the Clarins' makeup range, check up their website.
© www.vivawoman.net copyright notice ☺
______________________________________________________________
Comments