DIY Beauty: a spicy blend for a beautiful you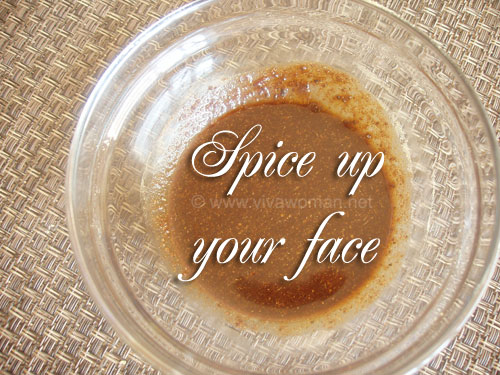 ~ This is a guest post from Victoria Lewy, who loves to experiment with different natural homemade beauty recipes. Her passion has inspired her to share and discuss them with others at her Homemade Beauty Blog. ~
I have a huge variety of spices at my kitchen, as I'm a huge fan of Asian cuisine. But spices are not only my minions in the kitchen, I also have them in my natural medicine cabinet as the first line of treatment for coughs and colds. On top of that, recently they proudly have also been placed on my beauty shelf. Are you curious why?
Today, with the help of just four spices, we will whip up an amazing spicy powder blend which will not only remove dirt and dead skin cells, but also will increase skin elasticity and prevent it from aging. This blend can even calm acne breakouts and improve skin tone.
Four essential spices for your skin
These four spices are: ginger, cloves, cardamom and cinnamon.
I just adore ginger and cinnamon, and I try to include them to almost every beauty recipe that I make myself. I use these spices both fresh and dried, as well as in the form of essential oils. These two plants are known for their rich antioxidant content, which means they inhibit harmful free radicals that cause skin damage and aging. And believe me, they do their job perfectly!
The abundant properties of cinnamon are not only limited to very high antioxidants content, cinnamon is also a strong astringent. It helps to clear your skin from impurities and dead skin cells. Cardamom also has these properties. So unifying these two spices in our blend makes it a killer cleanser for your skin.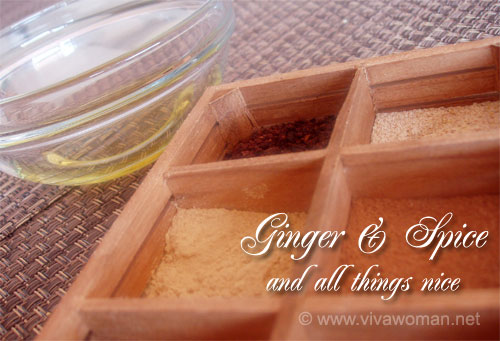 In addition, almost all of the spices in this mixture are strongly stimulating and known for having a warming effect on the skin. Applying them on the skin will improve blood circulation, which makes your skin look younger and dramatically improves skin color.
And this is not all. These amazing plants are also good at killing bacteria and preventing infections, which makes them ideal at fighting acne and other skin conditions caused by bacteria.
Spicy powder blend recipe
We need to mix ginger, cloves, cardamom and cinnamon in equal proportions. All the ingredients in this recipe should be in dried and powdered form. This powdered blend can be mixed with anything you can imagine, it can be used in different carrier oils, infusions, hydrosols, brewed teas even in aloe vera gels, creams or wines. Just select and mix our powder blend with the ingredients that are most appropriate for your skin type.
For example, for dry skin, you can mix the spices with brewed chamomile tea, or for oily skin, the ideal variant would be rose water. If you have acne, add some aloe vera gel. If you don't have anything appropriate on hand, just mix this powder blend with water, and you will still receive its beneficial power!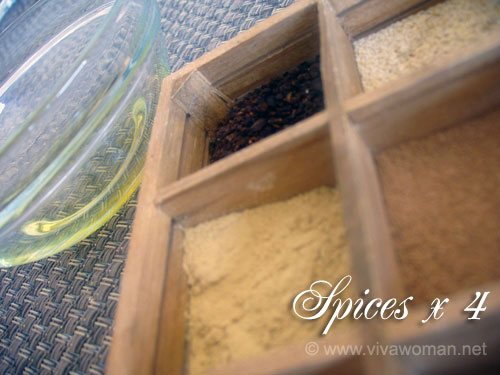 How often?
Use this recipe as a scrub 1-2 times a week; the main thing is not to overdo it. Frequent use of exfoliants could damage the top layer of the skin and deprive skin of its natural protection. This could potentially result in red inflamed spots and scaly patches on the skin.
I generally also often put this blend first on my face like a mask, and then gently scrub my face. Moreover, you can also use this blend instead of your daily cleanser. In this case, don't leave it on your face as a mask or scrub, just gently wash your face. As I mentioned, otherwise, this could be very irritating to your skin.
I have a long list of my favorite recipes, and this recipe was proudly included on my list amongst other beauty recipes. I also compiled all of my best recipes and tips in my Natural Skin Care Handbook e-book. This guide includes a number of homemade remedies and tricks and was written especially for those who want to give up on commercial products and start to naturally care for their skin without the use of chemicals.
So getting back to spicy blend, have you ever tried to use spices in your skin care routine? Or do you already have your own perfectly spicy blend formulated?
Comments