DIY Beauty: 3 spices to heal your post acne marks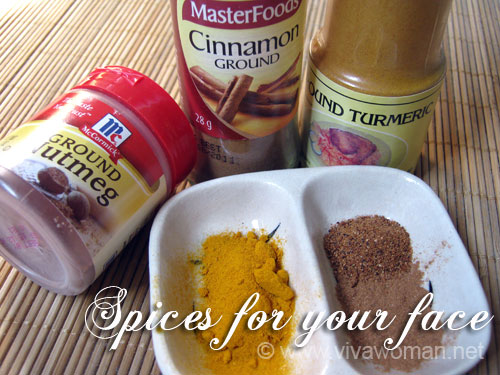 A number of readers have emailed me asking me the best DIY remedy to heal post acne marks. Well, there are a few such as milk and lemon or yogurt and lemon but based on my personal experience, spices like nutmeg, cinnamon and turmeric worked fastest for me. However, I have been hesitant in sharing this with those who emailed me because such spices can be too strong for sensitive skin type. Hence, you've got to use them with caution. But those who have no problems with them have only good things to share about them.
Nutmeg is anti-inflammatory
Nutmeg has anti-inflammatory properties and was used since ancient times for a variety of skin diseases including ringworms and eczema. Add it with honey which has antiseptic benefits and the concoction is supposed to help erase acne marks over time. It is also supposed to help lighten skin tone. However, based on my experience, the results were not immediate and you need to be patient.
Cinnamon is a natural exfoliant
But it's a different story with the cinnamon added. Cinnamon has been used for thousands of years as an antiseptic, astringent, antifungal and anti-viral aid, among its many other uses. Additionally, cinnamon is an exfoliant and can stimulate the pores, thus helping other ingredients to work on the skin as well. So a combination of nutmeg and cinnamon mixed with honey can really heal acne marks much faster.
Turmeric is a skin lightener
Popular in curry dishes, Turmeric has antioxidant properties and also help reduce the skin's melanin production. So this is great for lightening skin blemishes, which is what you get during the healing process of your acne. I'm not too fond of turmeric personally because of the yellowish stains it leaves on towels, etc but I've mixed it with nutmeg before and it worked okay for me. I've read some users raving about a mixture of turmeric and sandalwood for post acne marks but I've yet to try that.
Mix with milk, yogurt or honey into a paste
I would not recommend all three spices to be used at one go because they are rather strong. Rather, mix one of them with milk, yogurt, honey or water into a paste or at the most, just two of them together, like nutmeg and cinnamon or nutmeg and turmeric. Leave the paste on your skin for up to 20 minutes and then wash off and moisturize (protect with sunscreen during the day). Another thing to add is that this should be used as a spot treatment and you might want to use it sparingly on alternate days. I've tried using them continuously without problems though but hey, I don't know about your skin.
Comments