Guest review:Hello Kitty perfumes & a giveaway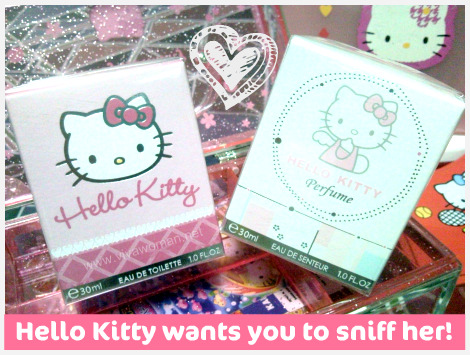 Hello Kitty is now available in Singapore and Jyoan of Positively Nice has some nice things to say about them. The perfumes were provided complimentary by Goldsilk and the company has also generously sponsored six more for for Viva Woman's local readers. Read on to find out how to get your hands on them.
******
When was the last time you went TOTALLY hysterical? Mine was when I received the news from Sesame that there were Hello Kitty perfumes to test.  I just cannot resist the temptation to at least take a look and touch anything Hello Kitty. Can you imagine that sense of fulfillment when you get to display yet another Hello Kitty in your room?  And actually, it's not just one more Hello Kitty, it's THREE! Two little potion bottles in pink and white, and a ladies perfume which I will review another time.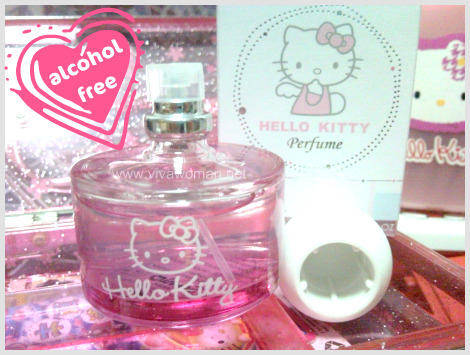 Hello Kitty Eau de Senteur 30ml S$34
Star Properties
Alcohol-Free! Made in France. Suitable for baby and children.
Ingredients
Aqua, PPG-26-Buteth-26, Fragrance, Glycerin, PEG-40 hydrogenated cator oil, Ehtylhexylglycerin, Phenoxyethanol, Benzophenone-4, Disodium phosphate, Citric acid.
Packaging
I like Hello Kitty, because I know that every authentic Hello Kitty merchandise will be beautifully packed, aesthetically pleasing and pink. This makes it such a great gift for girls all over the world. Even my mum commented how nice the bottle looks!
Scent
As published on Goldsilk's website: "A fun contrast between the freshness of green nut and the softness of musks and woods. The touch of violet brings originality and sophistication to the fragrance." This fragrance is more to the woody side, which is my favorite as all my perfumes come in woody florals. To me, woody is the kind of note that will never be over-the-top, and strong till the point of being unpleasant. It's the very safe scent that is suited for every day use, especially in the office, because it is not offensive.
Perfume tip
A lot of men do not like perfumes, and even hate beauty halls (like Tangs) because they can smell really strong and repulsive like Chanel No. 5. So wear woody fragrances if you're unsure of the what to wear on the occasion, or if you're buying fragrance as a gift for someone whom you do not know the taste of.
Alcohol-free
I never knew of the phrase "eau de senteur", so I went to check it out and found out that this French phrase actually means no-alcohol.  In fact, you can normally find this phrase on body mists that are suitable for children, and on natural/organic products. I think is very good, especially since Hello Kitty is more of a young girl's image.  So this Eau De Senteur may give a girl the lovely fragrance yet protect her from the harms of alcohol at a young age.
Anyway, it is beneficial to avoid alcohol as much as possible. Personally, I choose skincare products that are alcohol-free because my skin can get irritated by too much of it. Even oral intake of too much alcohol does gives me rashes sometimes.
Staying Power
The fragrance can stay for a few hours if you're not so active because it seems to go off faster when I use it outside, and I keep walking around.
Rating
I love it: 5 out of 5 hearts! This is a scent that I will continue using, because I like the woody note, I know that what I am using is alcohol-free and safe, and last but not least, I just LOVE to bring the Hello Kitty bottle out in my bag. =)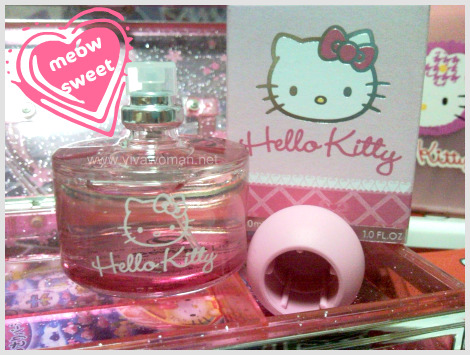 Hello Kitty Eau De Toilette 30ml S$34
Star properties
Trendy and sweet! Made in France.  Not recommended for children under 36 months.
Ingredients
Aqua, Alcohol denatured, PPG-26-Buteth-26, Fragrance, PEG-40 hydrogenated cator oil, Ehtylhexylglycerin, Phenoxyethanol, Benzophenone-4, Sodium hydroxide.
Packging
Similar to the Hello Kitty Eau De Senteur; except for the pink, cute, golf-ball shaped bottle cap.
Scent
As published on Goldsilk's website: " A trendy top range perfume line manufactured in France. The freshness of green apple combined with cherry tree flowers and jasmin leaves mingles with the sweetness of sweety apple and vanilla syrup " This EDT smells really sweet, literally like a sweet and unfortunately, I don't really like it as much as sweet scents don't go well with me. But it's of course nice to have another bottle of Hello Kitty to display together with the Eau De Senteur one.  LOL.
Rating
I love it: 2.5 out of 5 hearts.
Overall sentiments
I think Hello Kitty really did hit the right note with its perfumes. I thought these would be some low quality products like those Hello Kitty selling in Watsons (which do not look real to me, so I didn't buy any of those). But it surprises me that these two fragrances I've got are as good as those you can get from counters in beauty halls. =) By the way, both Hello Kitty perfumes are now available at T1 and T2 of Changi airport departure main shop.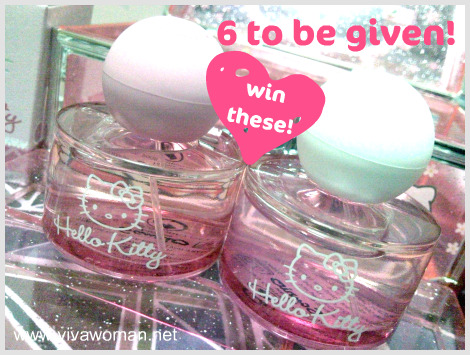 Hello Kitty Perfumes Giveaway
So, as promised earlier, SIX lucky local Singapore readers will be getting one Hello Kitty perfume each because Goldsilk has kindly sponsored:
– three Hello Kitty Eau De Toilette 30ml
– three Hello Kitty Eau De Senteur 30ml
 
Do note that due to the fragile nature of the items, winners have to SELF-COLLECT the perfume at Goldsilk's office located at Lower Delta Road. To enter, just answer the following questions in the comments section:
1.  How crazy are you about Hello Kitty? (I want lots of passion!)
2. Which perfume do you want to win – the Eau De Toilette or Eau De Senteur – and why?
Winners will be chosen based on how interesting their answers are. Other guidelines to note are – each Singapore-based reader is allowed one entry only; please provide a valid email address and the item is not redeemable for cash. The giveaway will be opened till 12 midnight SST on 27 January 2010 so enter right away!
Giveaway Disclaimer: Viva Woman has not tested all the products in the giveaway and cannot be responsible for any negative product experiences that arise from using them. Please use the products at your own discretion should you win them.
Comments