DIY ingredients: β-glucan for skin renewal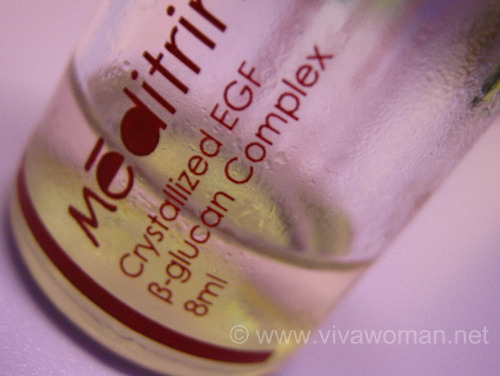 I'm currently hooked on adding ingredients directly into my serum or using the ingredients directly on my skin. Current love includes capsules containing L-Ascorbic Acid, Glucosamine and Niacinamide from the Marie Veronique Organics Anti-Wrinkle Vitamin C Supplement. Although I don't like the powdery residue left on my skin, but I have to say it is really performing. I'm almost done with the 60 capsules now and I see a mark improvement in my skin texture. Today, I'm going to bring your attention to another ingredient that I want to get my hands on – beta-glucan, a component extracted from oats that has multiple skin beneficial properties including moisturizing, wound healing, cell renewal, protection against UVA/UVB damage and reduction in hyperpigmentation.
Benefits of beta-glucan
Based on research from various sources, beta-glucan used in skin care is useful for collagen production and scar care. According to information from the Garden of Wisdom, "beta-glucan is a soluble fibre found in the cell walls of oat kernels. As a natural polymer, beta glucan stimulates the immune system and is used in products designed to help heal wounds faster. As an ingredient in personal care products, beta-glucan features the ability to induce cellular activities which lead to the restructuring of skin, resulting in a reduction of fine lines and wrinkles".
Beta-glucan is a linear polymer consisting of glucose molecules linked together in a particular fashion. It has a long history of safe use in skin care and dermatology as a long-lasting, film-forming moisturizer. It has also been shown to work as anti-irritant and to speed up healing of shallow abrasions and partial thickness burns. Beta-glucan appears to enhance wound healing through several mechanisms including the stimulation of collagen deposition, activation of immune cells and so forth. Beta-glucans are found in various natural sources, such as cereals and yeast; oat beta-glucan being the most active (SmartSkinCare.com).
My experience with beta-glucan
After my first derma rolling demo at the workshop, I've had a serum containing beta-glucan applied on my skin afterwards. The result was pretty remarkable and the improvement in my skin texture was noticeable. I didn't use it every time after I did my own rolling but the difference was apparent when I do not use the serum after some of my rolling sessions. Granted, the serum has crystalized EGF or Epidermal Growth Factor, which is a protein that works to heal and repair the stratum corneum by directly stimulating proliferation of growth factor receptors. It's actually like a growth hormone and so I don't want to use it often. Hence, I'm now looking to get the beta-glucan on its own but have no luck for a month now because all stocks are out.
Can't use the ingredient excessively
Meanwhile, I've been reading lots of positive reviews on the ingredient. However, I also noted that some ladies at the EDS forum had mentioned that their skin started to develop a bit of "gross stuff" after using soluble Beta-glucan over time. I tried to recall my experience and yes, I did notice some unusual whiteheads when I applied a lot of the serum one time. So I believe that you can't overdo the concentration with this ingredient. The product at Garden of Wisdom stated a 1% concentration and so I'm guessing that's probably about right.
Has anyone had experience using beta-glucan in their skin care formulation or used the product from GOW?
Comments