Lucas' Papaw Ointment for dry, damaged skin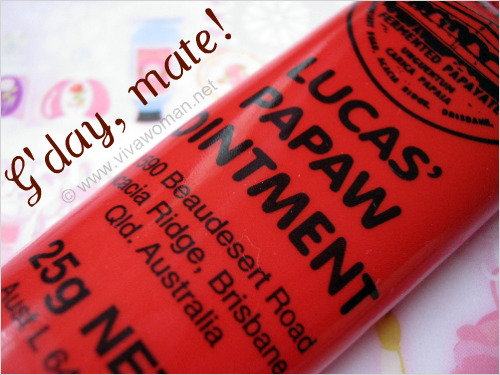 Now I know why some of my readers tell me that they don't want to read my blog every day. The temptation to purchase a product based on a rave is irresistible and they find it hard to restrain themselves! And this was what happened to me recently when I read Tine's review on the Lucas' Papaw Ointment. I immediately hunt it down at a local online shop and placed an order for it. At S$7.80 for the 25g, it was hard to resist.
Multi-purpose topical ointment
From the description, Lucas Papaw Ointment sounds like a multi-purpose balm that may be used as a local topical application on the following: abscesses and boils, bruises and burns, carbuncles and chafings, cuts and cysts, dry and cracked skin on hands and feet, gravel rash and heat rash, insect stings and mosquito bites, open wounds and pimples, scalds and sunburn, swelling associated with injury, splinters and thorns, tinea and whitlow, nappy rash and cracked nipples, temporary relief of the symptoms of dermatitis and eczema, temporary relief of the discomfort of haemorrhoids by local application. Yeah, like a multi-purpose magic cream!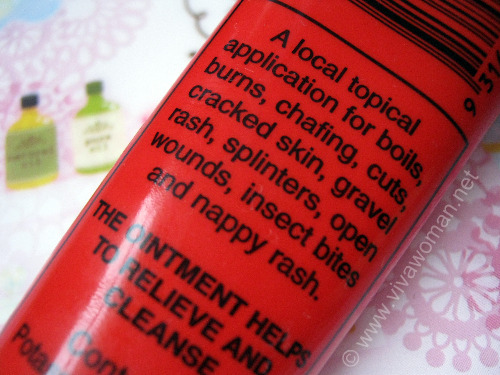 Formulated from pure papaw with petroleum jelly as base
The product is made in Australia and formulated from pure papaw. Papaw is really papaya and it has antiseptic properties. On the product packaging, it is stated that this ointment contains 39mg/gm of fresh fermented paw paw and 0.1mg/g of potassium sorbate as a preservative. However, nothing about it being petroleum jelly based. You only find this piece of information online, and even then, I didn't see it listed on their website or perhaps I've missed it. In fact, I only found out after I ordered and paid for the item and so it was a bit late to retract my order then. I typically avoid products using petroleum jelly except for Smith's Rosebud Salve and the reason is because they've never worked too well for me.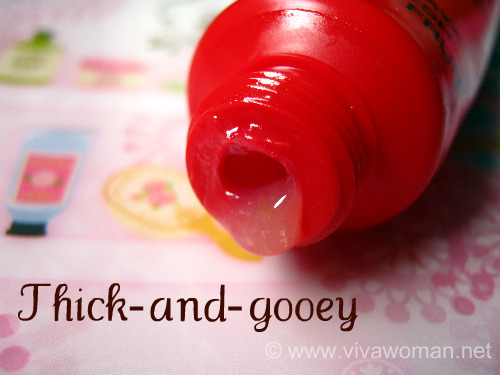 Packaging, texture and smell
To be honest, I have no idea what I was purchasing the product for. I just wanted it because it seems so interesting. Okay, okay…you can call me a sucker. I thought I'll try it on my lips as a night balm and perhaps use it on my dry cracked heels. When I first received this, I had difficulty removing the cap that covered the opening of the tube. The opening mechanism found on the top of the screw top cap didn't work and so I had to cut it off with a pair of scissors. Not really troublesome but did irk me a little there. In terms of texture, this balm is thick and gooey; almost similar to petroleum jelly based balms I've come across. But the smell *ARGH* is just AWFUL. I hate it! I don't really think it smells like papaya but I already hate that fruit and I think it smells and tastes awful too.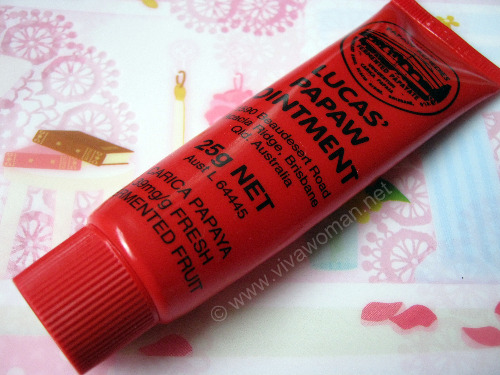 Good for dry, damaged skin
I've used this for a few weeks now and yes, I do find that it leaves my lips soft after leaving the balm on it overnight. However, I can't say it's exceptionally different from others I've tried. I used it on my cracked heels and while it did soften the skin but again, I can't rave about the results. But, I have to agree that this is exceptionally good for dry, damaged skin. As some of you know, I have developed a bout of rashes on my body and they have until these two days, been spreading. The rashes were making my arms really dry and none of my body lotion helped to ease off the dryness. However, after just one application with the Lucas Papaw Ointment, the skin on my arm was almost back to normal.
I won't repurchase this
This is definitely not a miracle ointment but it really helps with dry, damaged skin. It works quite well like the Egyptian Magic Cream but just smells far worst. The 25g isn't costly but it is not a lot if you want to use the ointment all over your body. I'll say, use it sparingly on the dry, chapped areas and it should last awhile. Because of the smell and that it contains petroleum jelly, I won't repurchase this again. But this ointment has definitely piqued my interest in similar products and I'll probably be getting a few more in time to come. Perhaps some of you have tried other papaw ointments and can share them with me?
Comments