Petroleum-free multi-purpose paw paw ointments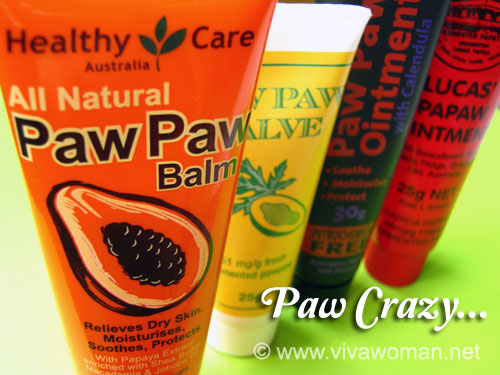 Since the review on Lucas Papaw Ointment, I've gotten slightly paw paw crazy and went in hunt for other petrochemical free paw paw ointments. And I found not one, but three! The Simmons Paw Paw Salve, the Healthy Care Paw Paw Balm and Pure Nutraceuticals Paw Paw Ointment. I use them interchangeably on my lips, cuticles and dry spots and all three have managed to perform effectively. I also found them great for healing minor skin abrasions.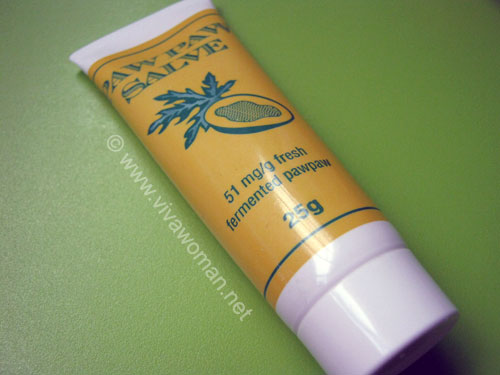 Simmons Paw Paw salve 25g tube S$8.50
This is my favorite of the three because the texture is just right for me. It feels thick and slightly greasy but not sticky and applies well on all areas. Contains no petroleum jelly and has more than five percent of fermented fresh paw paw blended into a base of natural materials of vegetable waxes and oils. This smells a bit like calendula to me but it's apparently not since calendula is not one of the ingredients. Maybe it's castor…but it's a pleasant smell to me. The 25g is the smallest of the three but I like the size because it's very handy.
Ingredients: fermented pawpaw (carica papaya), water, Rhus Succedanea wax (Japan Wax Tree), glycerine, canola oil, hydrogenated castor oil, beeswax, corn starch.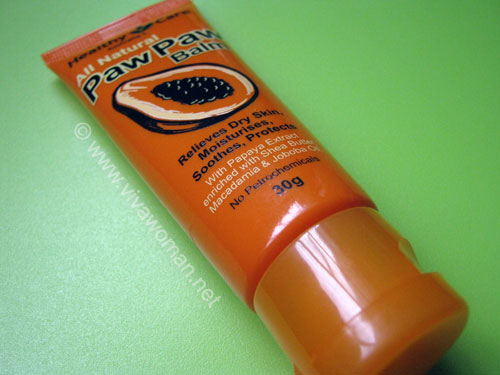 Healthy Care Paw Paw Balm 30g S$8.50
Although I like the result that this balm yields, but I don't like the texture because I get more of the oil first whenever I try to dispense the balm. It's oily but again, doesn't feel sticky though. I didn't like the smell initially because it came across slightly "plastic" to me but after a few rounds of using, I think it smells okay now.
Active Ingredients: Helianthus Annus (Sunflower) Seed Oil, Ricinus Communis (Castor) Seed Oil, Hydrogenated Castor Oil, Butyrospermum Parkii (Shea Butter), Beeswax, Macadamia Ternifolia Seed Oil, Jojoba Esters, Silica, Paw Paw Extract (Carica Papaya), Natural Paw Paw Flavour.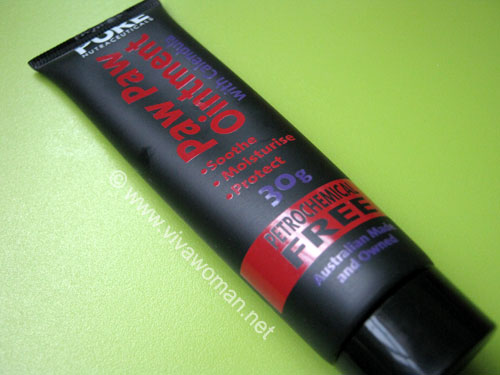 Pure Nutraceuticals Paw Paw ointment with Calendula 30g S$9.50
I found this slightly difficult to dispense as it's really thick. But again, it wasn't sticky. I couldn't smell much of the calendula but instead, the smell of coconut was very strong. I've been applying this to my dry, cracked heels and I found it effective in keeping the area soft and smooth.
Active Ingredients: Fresh fermented paw paw – 48mg/gm, Calendula officinalis flower extract – 5%. The base of the ointment is a mix of of grapeseeed oil, beeswax, castor oil, shea butter fruit, coconut flavour and vitamin E (tocopherol).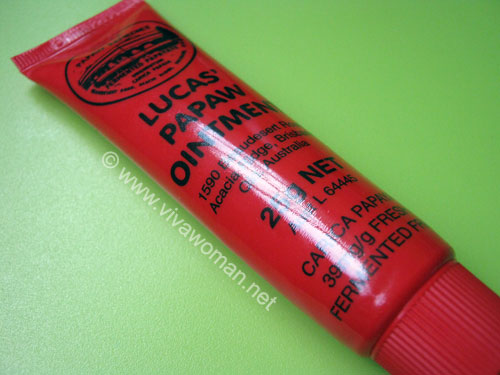 Lucas Papaw Ointment 25g $7.50
The Lucas Papaw Ointment was the first product I've tried but as mentioned, I didn't realize that this comes with petroleum jelly until I've placed my order. So yes, I'm not so fond of it compared to the other three, which are petroleum-free. Plus, the smell is the worst. Actually, I hardly use it now although I'll most probably try to finish the tube by applying it on my feet.
What's the purpose of paw paw ointment?
Paw paw ointments are really for multi-purpose topical application. You can use it for: abscesses and boils, bruises and burns, carbuncles and chafings, cuts and cysts, dry and cracked skin on hands and feet, gravel rash and heat rash, insect stings and mosquito bites, open wounds and pimples, scalds and sunburn, swelling associated with injury, splinters and thorns, tinea and whitlow, nappy rash and cracked nipples, temporary relief of the symptoms of dermatitis and eczema, temporary relief of the discomfort of haemorrhoids by local application. Personally, I like applying the ointment to my elbows, knees, lips, cuticles and heels during bedtime.
Where to get the paw paw ointments in Singapore?
All these paw paw ointments and balms are made in Australia but I purchased them online via a blogshop here.  Delivery was prompt and I had no issues receiving the items in good condition.  Of the three, I'll be happy to re-purchase the Simmons Paw Paw Salve again.
Comments