Slender legs with compression sleeping stockings?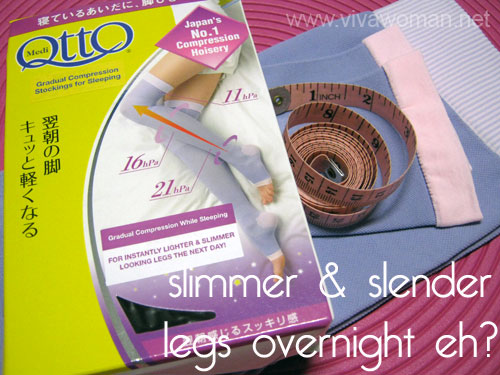 Those of you who frequent Watson's must have seen these around – the Scholl Medi Qtto Sleeping Stockings, a compression hosiery that helps to reduce water retention and swelling, promising you shapelier and more slender legs overnight. I almost got it when it was first launched because I'm quite a sucker for things that promise me results without having to do much. I changed my mind though, when I saw the price tag at S$46.90, as I wasn't ready to give up a leg for it. But maybe the company read my mind or something, because I was subsequently gifted with a pair at the end of July to try. So I've been wearing these on and off since then. Do I now have model-slim-legs? Well, read my review with before and after pictures to find out!
Design to improve blood circulation and reduce water retention
According to Scholl, fat looking thighs and legs are caused by water retention due to poor blood circulation, contributed by a poor posture. Additionally, a high salt content in our bodies, as well as prolonged periods of sitting or standing, cause bloating when soft tissues in the leg swell up. So the company invented Medi Qtto Sleeping Stockings, which are meant to improve the blood circulation and reduce the water retention in our legs while we sleep. I also understand that such stockings are designed to facilitate compression therapy, a technique that helps improve circulation to relieve a number of medical conditions such as varicose veins.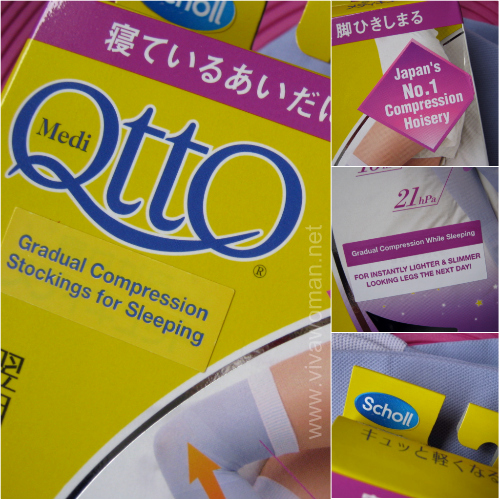 Results vary according to body type and lifestyle
I was skeptical about the overnight claim but was told that the effects generally depend on a person's body type and lifestyle. So perhaps some will notice a difference after using these just for a night while others may take a couple of days to notice a real difference. I haven't been wearing them consistently, maybe more like on alternate nights and even so, there was at least a week I went without them.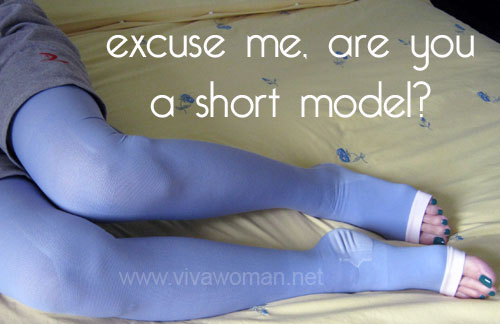 Fitting like normal stockings but thicker
The reason why I don't wear them consistently is because these sleeping stockings are quite thick and so are uncomfortable during warmer nights as I don't sleep in an air-conditioned room. In fact, I often find myself pulling them off in the middle of the night.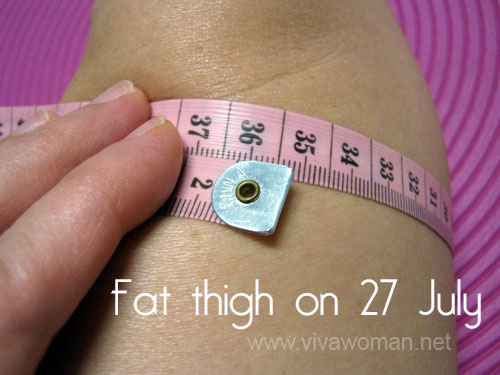 Very slight difference
It was a good thing I decided to take pictures before using the stockings as I know that my untrained eyes won't be able to tell the difference. I've also been asking my husband to check but each time I ask him, he'll always tell me there are no differences. Personally, I've been concurring with him until I took some pictures today and noticed that there is actually a very slight difference. My thigh is still fat, but looking at the picture, it seems that it is not as bloated. What do you think?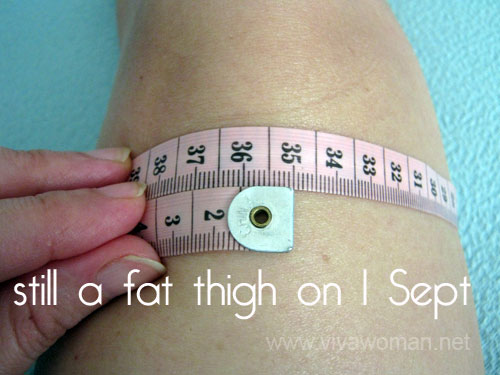 Model legs not quite
I was actually about to review that this product is a complete waste of money but looking at the pictures now, maybe it does work afterall. Just that the results aren't that promising for me and yeah, I can never ever be model material. Perhaps it's got to do with the fact that I don't have that much water retention and well, my thighs are fat and these stockings aren't designed to reduce fats at all! So is it worth getting? I leave you to decide.
Comments