Kelly Edwards natural skin care range from UK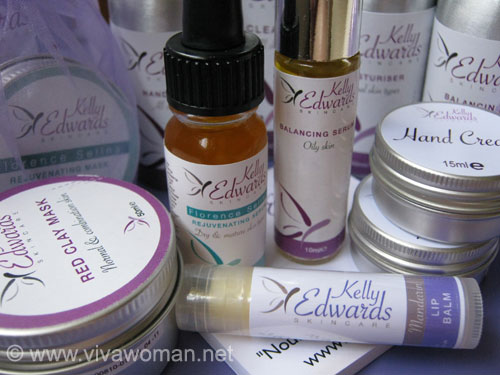 A couple of weeks ago, I met Kelly, the founder of Kelly Edwards Skincare, when she was visiting in Singapore. Kelly is an Aromatherapist and a Biology Graduate. Looking at her flawless complexion, one can never imagine that she used to have bad skin as a student. In fact, it was her skin problems that led her to create her own line of products using mostly natural plant botanical ingredients.
Kelly Edwards Skincare range are free from sodium lauryl sulphate (SLS), sodium laureth sulphate (SLES), mineral oils, synthetic perfumes or dyes, parabens or lanolin. The products are handcrafted in small batches in West Wales and are formulated to be rich in essential fatty acids, antioxidants, vitamins and phytochemicals. Ingredients used are ethically sourced and organic where possible. And except for the lip balm, all products from Kelly Edwards are vegan friendly.
Kelly gave me a bunch of her products to try as well as for my VivaBella giveaway. I didn't manage to try everything but of those I've tried, there were a few I rather like.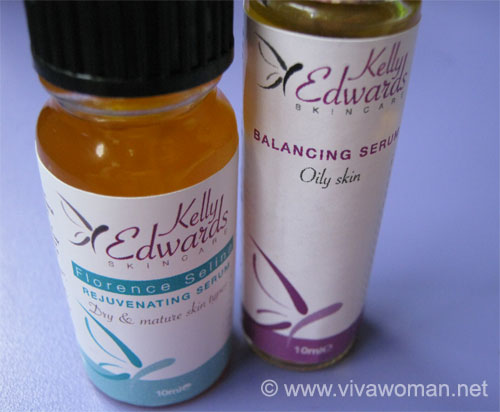 Enriching serums
I was forewarned that the Florence Selina Rejuvenating Serum that is formulated for dry and mature skin type would be rich. So I don't use this daily but rather, once or twice a week after I use a purifying face mask. It's very nourishing as it is enriched with essential fatty acids of Omega 3, 6, 7 and 9. Although it feels heavy, but I didn't have any issues using this at all. The only thing was the scent, which I found to be quite sharp. It's not a familiar scent to me and I suspect it's from the Chia Seed. I only tried the Balancing Serum these few days because it's targeted at blemished skin. I've had two new pimples popping up and this serum, while oily, managed to calm them down quite well.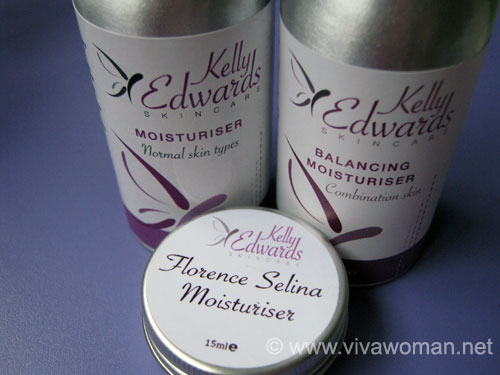 Moisturizers and cleanser
Personally, I prefer using oil on my face over using moisturizers. Maybe it's because I've been using sunscreen on a daily basis and so I find adding moisturizers to the combination is too heavy. But I gave Kelly Edwards' moisturizers a shot. What I liked about it is that it's non-greasy and I found it to be a great combination to the Marie Veronique Anti-Aging Day Serum I reviewed recently. My skin felt sufficiently moisturized and yet, not oily. I didn't try the Florence Selina Moisturizer but the other two you see in the picture were what I've been testing. My preference is for the moisturizer for normal skin type even though I have combination skin.
I didn't include a picture of the facial cleanser but that's one product I really like too. It's a cream type of cleanser and I now use it to cleanse off my makeup before following on with my usual foaming cleanser.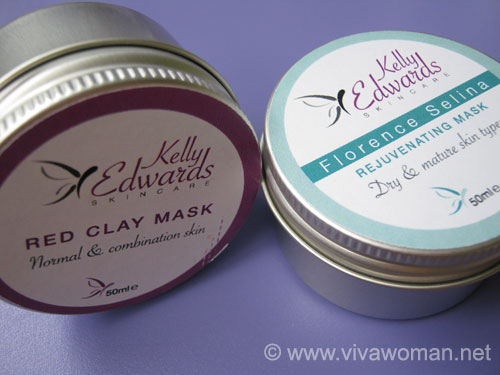 Facial masks
Actually, Kelly Edwards facial masks were the first items that caught my attention when I first checked the online store. So they were the first items I tried. There are four types of facial masks offered – Pink Clay Mask for sensitive skin, Green Clay Mask for oily and problem skin, Red Clay Mask for normal skin and Florence Selina Rejuvenating Mask for dry and mature skin. I received the last two types of masks and I really like the Red Clay Mask a lot. The Florence Selina Rejuvenating Mask was okay for my skin but I didn't like the idea of having to wash it off since it's a nourishing mask and so, have only used it once.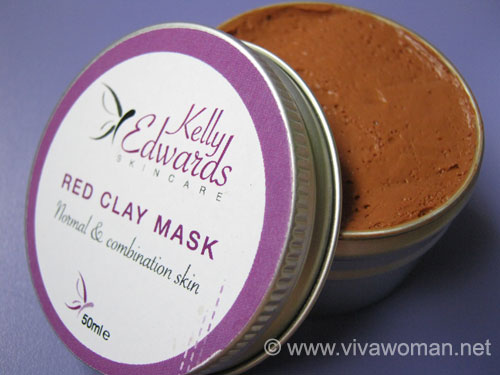 Red Clay Mask
This mask is formulated for normal skin but it works for my combination skin to draw out impurities from the skin. I don't really have that much issues with my skin but I like to use a purifying mask on a weekly basis as routine maintenance. I was using my own bentonite clay mask before but this red clay mask saves me all the preparation time. All I need to do is to apply a thin layer on my cleansed skin and leave it for about 15 minutes before washing off. There's a bit of a minty feeling when I spread the mask on my face but the good thing about it is that unlike the usual clay mask, this one doesn't dry up on my skin. In fact, I had to use a wash cloth to remove during the washing. But that's not much of a problem for me as I was already doing that for my bentonite clay mask.
Overall thoughts
As a whole, I think her products are carefully formulated to benefit different skin types. While I did not try all her products, but those that I tried left me good impression. In addition, I realized that a number of her ingredients are organically sourced and that's pretty impressive considering the price levels are still affordable. The only drawback of course is that because her store is based in UK, we would have to factor in the shipping charges, which starts from £8.90. Anyway, Kelly has left me a number of products for the next VivaBella giveaway…so someone is going to get her hands on them soon!
Comments