For your eyes only: Kelly Edwards Eye Gel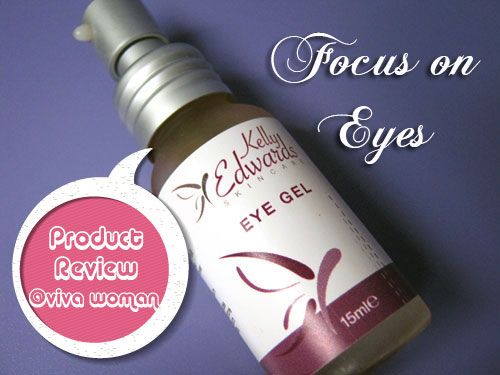 I do believe there is a dearth of reviews on eye products here. Well, this is going to change starting this year because I'm on a FANATIC quest to improve the look of my eye area, as naturally as possible! In fact, I've been using a couple of eye skincare products over the past two months kind of interchangeably and I plan to to test out more in time. So look out for an avalanche of eye product reviews here over the next few months!
New formula from UK
To kick off the series of eye skincare reviews, I have Kelly Edwards Eye Gel today! Kelly had sent this product to me when she mailed me the packages for the VivaBella Green Beauty Box Giveaway and it was so timely because I was in dire need for some eye skincare then. This product is one of Kelly's newest addition and it's described as a potent formula for the delicate eye area to hydrate, firm, ease puffiness and soothe out the eye area – sounds exactly like it's customized for me!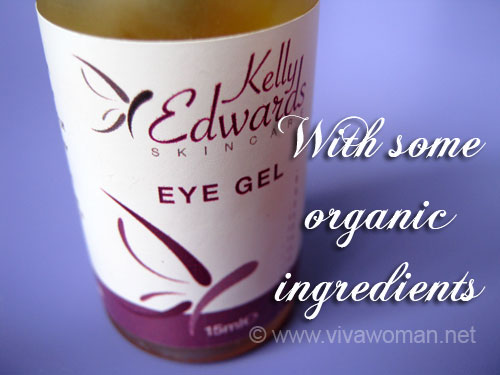 Interesting ingredients
Ingredients: Aqua, Aloe Barbadensis Leaf Extract** (Aloe Vera), Sodium Hyaluronate, Rosa Rubiginosa Seed Oil** (Rosehip) ,Glycerine (Vegetable derived), Hydrolysed Lupine Protein, Sodium Ascorbyl Phosphate, Cucumis Sativus Fruit Extract** (Cucumber), Euphrasia Officinalis Extract** (Eyebright), Arnica Montana Flower Extract** (Arnica), Eleutherococcus Senticosus Root Extract (Siberian Ginseng), Hydroxyethyl Cellulose, Sodium Acetate, Ribes Nigrum Fruit Extract (Arctic Blackcurrant), Hippophae Rhamnoides Extract** (Sea Buckthorn), Tocopherol (Vitamin E), Ubiquinone C12-15 Alkyl Benzoate (Q10), Sodium Benzoate, Potassium Sorbate, Phenoxyethanol, Ethylhexylglycerin, Alcohol *Naturally occurring in Essential Oils **Certified Organic
Helps with my eyebags somewhat
I like the look of the ingredients in this formula such as Siberian Ginseng, Vitamin C, Arctic Blackcurrant, Arnica, and CoEnzyme Q10. Because it is an eye gel, I used it mostly in the mornings. I noticed there was a slight tingling sensation when I first started using this product but it is no longer apparent now. While this eye gel is not moisturizing, it is fairly hydrating as I noticed the fine lines under my eye area were less obvious immediately upon application. But what pleased me about this product is that it helped eased eye puffiness and reduce my eyebag somewhat as I didn't see that coming from another product I was using about the same time. However, the effectiveness seems to last as long as I was using it as my eyebags surfaced again when I stopped using this eye gel too. In addition, I haven't seen any longer term improvements to my eye area after having used this for awhile now.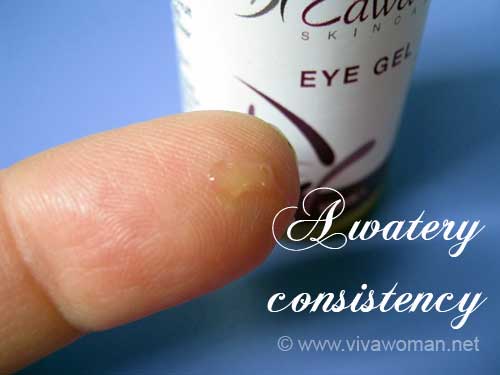 To be renamed as an eye serum
There is only a slight scent to the product if you really sniff at it. And because it is called an eye gel, I was expecting something thicker and slightly sticky but turned out, the Kelly Edwards Eye Gel has a very watery consistency, which came across more like a serum to me. When asked, Kelly told me that she believes an eye gel and eye serum to be similar but is planning to rename this product 'Eye Serum' soon to be more in line with other products on the market.
Overall summary
My experience with eye skincare products tells me two things. One, I get instant results but it is as good as it lasts and then nothing more happens. Two, I don't see improvements until many months later. So this product seems to fall under the first category but I like to give this product a 4 out of 5 rating because I find that it does most of what it claims.
Price and promo
I find the price of £16.50 for a 15ml bottle pretty reasonable too. A 3ml trial size is also available at £3.50. And the 15ml size should last anything between three and four months as I've used this product since November and I still have 3/4 of the content left so a little really goes a long way. Kelly has also kindly offer a 20% promo code for all Viva Woman readers until 12 February – just enter Viva20 at checkout over at the website. And if you mention Viva Woman in the referred box, you will receive an extra bonus treat!

Comments