Review: 100% Pure shower gel and hand cream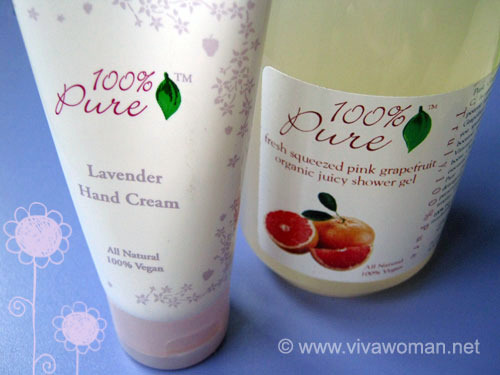 A number of you have been telling me about 100% Pure and thanks to a recent 20% sale at Bud Cosmetics over at the OG department store, I finally got my hands on their products. Actually, I had just wanted to get some bath products for my boy but the selection was very limited, from what was left. So in the end, I bought two products for myself – the Lavender Hand Cream and the Fresh Squeezed Pink Grapefruit Juicy Shower Gel.
100% natural and vegan formulations
100% Pure products are made with no synthetic chemicals, chemical preservatives, artificial fragrances, artificial colors, harsh detergents or any other unhealthy toxins, as described on their website. They are also 100% vegan as their products are not tested on animals. Additionally, the products are formulated with a number of antioxidants to counter free radicals. And perhaps more interestingly, their cosmetics are colored with fruit and vegetable pigments.
100% Pure Lavender Hand Cream
Ingredients: White Tea, Lavender Hydrosol, Cocoa Butter, Avocado Butter, Pomegranate Oil, Acai Oil, Grapeseed Oil and Rose Hip Seed Oil, Candelilla Wax, Lavender Essential Oil, Extracts of Cherry, Pomegranate, Raspberry, Blackberry and Grapefruit Seed, Cinnamon, Thyme, Oregano, Goldenseal, Vitamin E (a-tocopherol), Vitamin C (ascorbyl palmitate), Citric Acid, Witch Hazel, Japanese Honeysuckle Extract
Although I've mentioned that I'm not a big lover of lavender, but the scent of this hand cream is heavenly. It's a lot stronger than the Natio Spa Heavenly Hand Cream I reviewed last week and in terms of texture, it feels creamier as well, probably due to the combination of cocoa butter and avocado butter as well as the various oils. While it does feel rich on initial contact, it is not greasy and the cream sort of sinks in after maybe 5 to 10 minutes later. And actually, while my hands do feel soft but if I rub my palms together a bit longer, I kind of feel a little dryness setting in over time. But I have to say the ingredients look very impressive and the 2 oz tube cost only S$16 before discount so I'll say it's an item worth re-purchasing – especially when it goes on sale.
Rating: 4 out of 5 hearts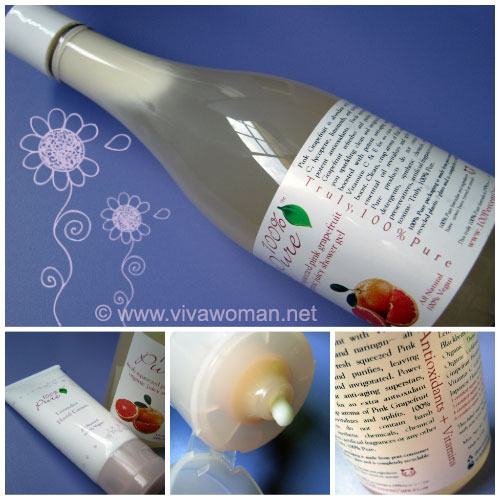 100% Pure Fresh Squeezed Pink Grapefruit Juicy Shower Gel
Ingredients: Organic Aloe Juice1, Organic Rose Hydrosol2, Extracts of Organic Grapefruit Seed3, Organic Lemon4, Organic Blueberry4, Organic Raspberry4, Organic Blackberry4, Organic Strawberry3 and Organic Rosemary5, Organic Thyme5, Organic Lavender5, Organic Cinnamon5, Organic Goldenseal6 and Organic Oregano4, Organic Pink Grapefruit Essential Oil3, Coconut Cleanser (coco betaine)5, Vitamin C (calcium ascorbate), Vitamin E (a-tocopherol), Japanese Honey Suckle, Witch Hazel, Citric Acid
Look at the packaging! I had to remind myself that this is a shower gel, not a bottle of juice! And I really felt like I was washing myself in pink grapefruit juice for there is no texture to this gel. It is just liquid and the scent is exactly like a pink grapefruit, which is extremely refreshing and uplifting. Since this is liquid, I had to be careful not to pour too much or some of it will go to waste. This shower gel hardly foams and this was something I had to adjust to as I do like my shower gels to foam. Having said that, I have to say that the 100% Fresh Squeezed Pink Grapefruit Juicy Shower Gel cleanses very well. As a matter of fact, I found it a tad drying and had to remember to moisturize my skin well afterwards. The 14.7 oz cost S$29 before discount and while I concede that this is a fun and great smelling product, I doubt I want to re-purchase the item again.
Rating: 3.5 out of 5 hearts
Summary
I rather like the experience with my first venture into using 100% Pure products. The ingredients look very agreeable and their product packaging look fun and fuss free. More importantly, I think their price points are rather affordable. Next in my want list from the brand would be some of their cosmetics. Perhaps those of you who have tried their products can tell me which are your favorites?
Comments