Tell me…am I betraying the natural beauty cause?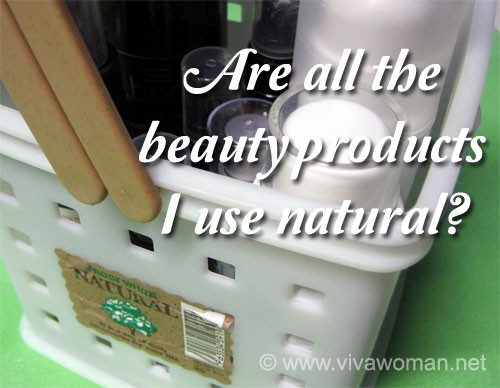 Some of you wanted to know what I use on a daily basis and so I decided to show you today. I can't feature all the products but these are a good indication. Please note that I do switch products around a bit but these are what I use mostly. When I say natural, I'm referring to the brand and not the ingredients. However, most of the formulations contain a substantial amount of botanical ingredients and do not contain the unnecessary chemical excesses.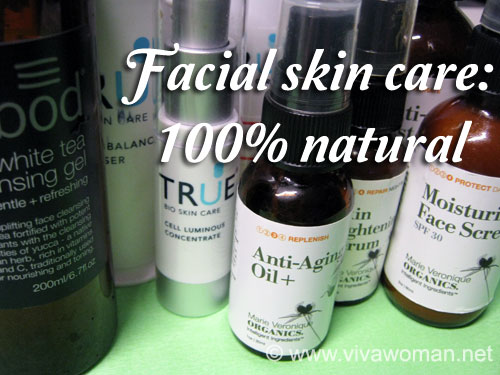 In terms of facial skin care, I'm pleased to say that I'm using only natural products. Products you see here are:
– Marie Veronique Organics Anti-Aging Range
– True Beauty True Bio Skin Care
– Bod White Tea Cleansing Gel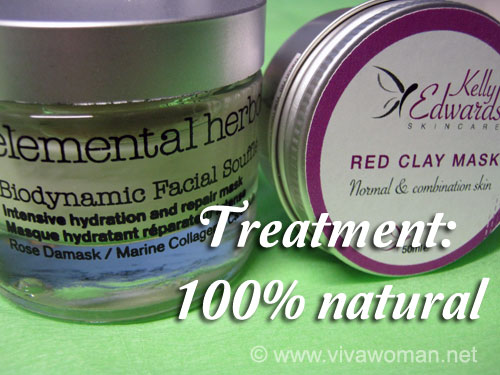 The masks that I use are:
– Elemental Herbology  Biodynamic Facial Souffle
– Kelly Edwards Red Clay Mask (to be reviewed)
For exfoliation, I'm currently using a massage cream from True Beauty and testing a scrub from Bod.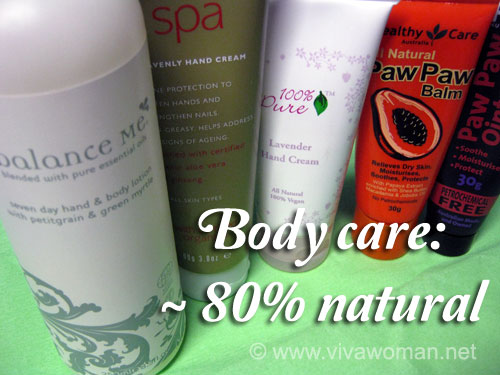 Body care products I use are from:
– 100% Pure
– Natio Spa
– Balance Me natural body lotion
You also see two Papaw balms of natural formulation but what you don't see is the shower gel and currently, I use the 100% Pure Fresh Squeezed Pink Grapefruit Juicy Shower Gel. As for deodorant, I use my own concoction of baking powder.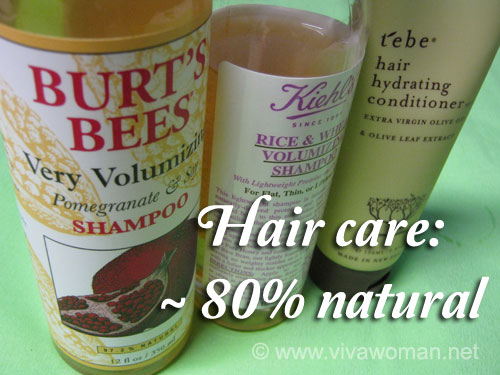 Hair care products are:
– Burt's Bees Very Volumizing Shampoo
– Kiehl's Rice & Wheat Volumizing Shampoo
– Tebe Hair Hydrating Conditioner
I was actually using 100% natural products in hair care for awhile with products from Burt's Bees and EO but since I ran out of EO, I switched to Kiehl's.
Make up products I use are mostly non-natural. What you see here are:
– Aubrey Organics lip tint
– ChopSaver lipbalm
– Shiseido foundation
– Clarins foundation
– Prescriptives eyeshadow
– Too Faced Shadow Insurance
Question for my readers
Viva Woman didn't start out as a natural and organic skin care blog. I only started blogging about such products when I developed an interest in them sometime in 2008. Unlike those blogs that are really focused on green, natural and organic products, my blog is still a mixed bag. Moreover, I'm based in Singapore and many of you know that the natural and organic beauty market here is in its infancy. So I try to blog based on what I use.
But of late, I been feeling uneasy that not all the products I feature here are natural. Sometimes, I feel that I have to overjustify for some of the non-natural products I use, especially my choices in makeup.  Other times, I feel bad that some of you are coming here to read about natural and organic products but you don't always find those information. So yeah, I'm feeling kind of guilty and have been thinking and NEED to know – do you think I am betraying the natural beauty cause that I've been pursuing?
Comments