Can you use a cotton pad to exfoliate your skin?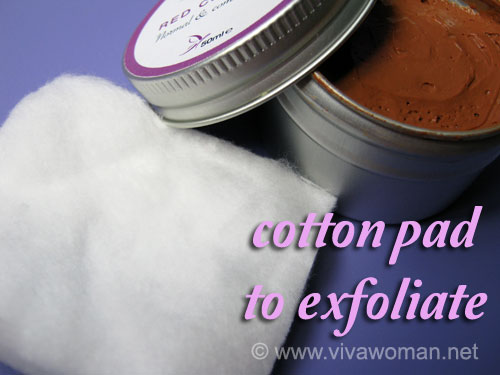 Does this sound weird? How can a soft cotton pad do the job of exfoliation properly? I remember seeing a special type of cotton pad sold at Watsons for this purpose but here, I'm talking about the normal type of cotton pads. I use them about once a week to aid exfoliation.
Cotton pads are convenient and hygienic
Actually, I used cotton pads in place of a wash cloth because I find them more hygienic. Just use and throw. No need to wash and air dry and no need to worry about bacteria accumulation. But of course, one piece is usually not enough because of the way I use. So wastage is considerable.
Use it to remove residue from face mask
Once a week, I'll set a mask on my face and when it comes to the time to wash off, I don't just rinse with water. Instead, I rinse and then use a few cotton pads to remove the residue. By doing so, it helps to clean off the residue from the mask completely.  At the same time, I'm also exfoliating my skin.  My skin always feel soft and supple afterwards. Of course, compared to a scrub, this is not as effective but still, it will remove some of the dead skin cells and it is more gentle for my skin. I do this once a week on top of still using an exfoliating scrub sometime during the week.
Use it with toner
I apply my toner using my palm but I know some of you use a toner with a cotton pad. Actually, in a way, you're also exfoliating your skin in a gentle way.
Use it on the lips
I also use a cotton pad to sort of rub my lips when I shower. I find this very gentle as compared to using a scrub or a wash cloth. I can even do this daily if I like.
Types of cotton pads
I use normal Japanese branded cotton pads I purchase from Sasa. They're not as smooth to the feel compared to the Muji cotton pads so are more effective when it comes to exfoliating. Another type is those cotton pads that are textured. Those are not bad too.  And if you can get your hands on the organic cotton pads, they're so much better because they're far more natural. But, they cost a lot more too!
So does using a cotton pad to exfoliate your skin make sense to you?
Comments