Tips to share: 5 gentler ways to exfoliate your skin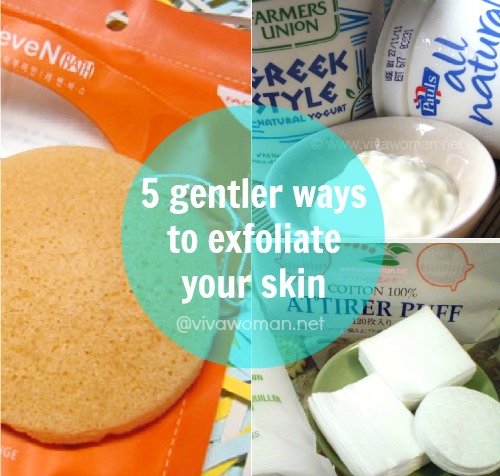 Regular exfoliation like once or twice a week is essential in a skin care regime. In fact, it results in clearer, smoother skin because it helps remove dead skin cells on the epidermis. Additionally, regular exfoliation not only improves the surface appearance but the function of the skin as it allow better penetration of the active ingredients in toners, serums and moisturizers. The idea of exfoliation may come across as harsh but really, it need not be so. Instead of mechancial exfoliation via a facial scrub or chemical exfoliation using AHAs, BHAS, retinoids, fruit enzymes, salicylic or glycolic acid, there are gentler alternatives.
I'm going to take you through five of these alternatives. Most of them have been covered one time or another on this blog but this is the first time I'm putting them altogether in one post.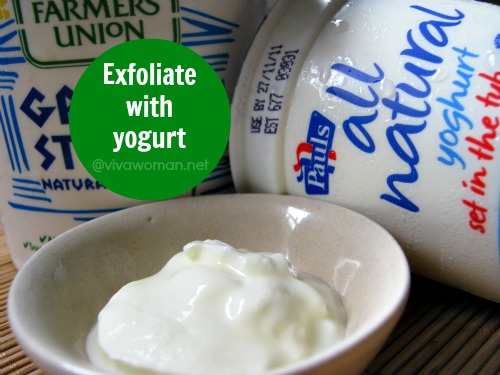 1. Exfoliate with yogurt
Yogurt is a natural AHA which contains lactic acid. While it may not work as quickly as those commercial AHA based products, those of you who use this ingredient will agree with me that this is really great for the skin and it's so affordable. In fact, this will make a great exfoliant without causing sensitivity to most skin types. I'm not sure what's the concentration of AHA in the yogurt but the pH level is definitely under 5 and so most people can use it quite regularly. And by using this ingredient at least twice or thrice a week, you may find your skin tone evening out and some of your pigmentation or acne scarring marks actually lightening up over time.
2. Exfoliate with a sponge
Sponges, like those konjac type, help to exfoliate the horny layers of your skin and hence, it can aid in reducing acne marks. I had two pimples around my mouth that were slowly healing but the marks were taking awhile to lighten up. After I started using the konjac sponge to cleanse my face twice a day for about two weeks, I noticed the marks healed better and lightened up. The only problem with using sponges is, you need to ensure they're properly dried so as not to be a breeding ground for bacteria.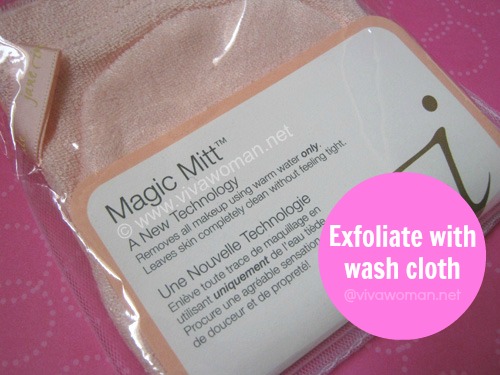 3. Exfoliate with a soft wash cloth
This is probably something many of you are familiar with. However, your choices of wash cloth is important. The texture should be soft and not rough. These days, you have special mitts for exfoliating purposes and all of them are said not to affect the skin's natural acid mantle. Again, like the sponge, wash cloth must be properly cleansed and dried to prevent bacteria breeding.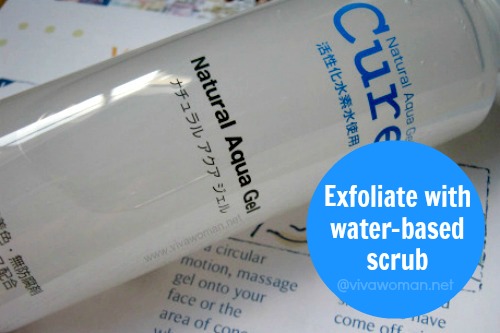 4. Exfoliate with a water-based scrub
Products like Cure Natural Aqua Gel, which contains 91% water are gentler as a face scrub and suitable even for sensitive skin. The product helps to remove the dead skin and dirt to support the natural regeneration process of our skin. How it works is that it regularizes your skin turnover by gentle peeling, removing dead skin and necessary proteins, making your skin smoother, brighter and softer.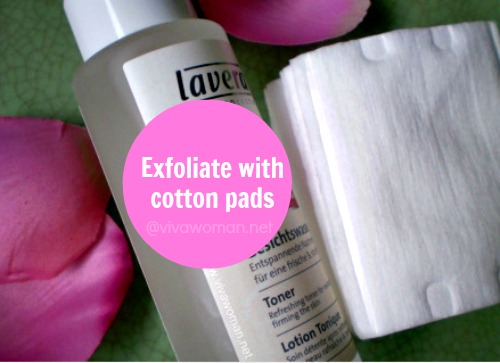 5. Exfoliate using cotton pads
In 2010, I wrote about using a cotton pad to exfoliate in place of a wash cloth because I find them more hygienic. Just use and throw. No need to wash and air dry and no need to worry about bacteria accumulation. But of course, one piece is usually not enough because of the way I use. So wastage is considerable. What I do is I'll set a mask on my face and when it comes to the time to wash off, I don't just rinse with water. Instead, I rinse and then use a few cotton pads to remove the residue. By doing so, it helps to clean off the residue from the mask completely. At the same time, I'm also exfoliating my skin. My skin always feel soft and supple afterwards. Of course, compared to a scrub, this is not as effective but still, it will remove some of the dead skin cells and it is more gentle for my skin.
Over to you
Do you use any of these gentler alternatives to exfoliate your skin? If so, which is your favorite? Or do you have other favorite exfoliating routines you can share with us?
Comments