Share: do you wash your hands for skin's sake?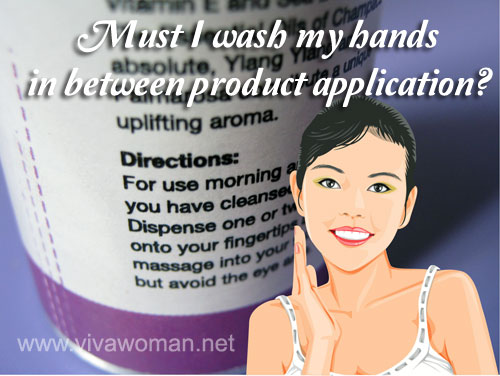 Hello VivaBellas! How are you this morning? I am feeling so brilliant and glorious! Woo hoo! There are so many things to be happy about! For one, my skin was breaking out a little last week but it's all good now. I've actually been changing my skin care gradually this season because of some new products introduced to me. Just the other day, while applying my skin care products, I noticed that I was washing my hands in between applications quite a bit these days. I never used to do that. Okay, let me explain what I'm trying to say here.
When applying complimentary products
I never used to wash my hands in between product applications. After I cleanse my face with my cleanser and after I've patted my face dry with a face towel, I'll always start off by applying my toner with my bare hands. Next, I'll apply an essence. Since both are in liquid form, I do not wash my hands in between or after that as I feel my hands are clean. I will then proceed to apply a serum and my facial oil and I don't wash my hands in between both applications either. My rationale is that these are all products for the face and the consistency of each do not interfere with the other. In fact, they are complimentary.
When applying a product with a different texture and smell
However, I recently incorporated another serum for my neck and because of that, I noticed myself washing my hands because I dab a bit of the serum around my mouth area too before applying my usual facial serum and oil. I wash my hands with water because I didn't want the smell and the serum to mix with my other skin care products during application. It's kind of strange actually considering I'll still be applying my other skin care products over this neck serum. But I just feel more comfortable washing my hands after using the serum.
When applying products for different areas
I also do not wash my hands when I proceed to apply my body lotion afterwards. Because I think whatever I use on my face would benefit my body anyway. But I sometimes forget and apply my body lotion before I finish applying my facial products and when that happens, I'll wash my hands before I use my face care products as I definitely don't want the body cream to be applied on my face through mixing with my face care products.
How about you ladies? Do you find yourself washing your hands a lot during your skin care applications?
Comments