Share: your most embarrassing feminine moment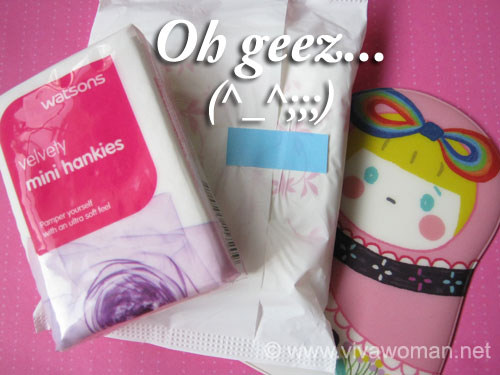 Good day VivaBellas! I'm feeling very upbeat and because I'm feeling so, I want to tell you about my most recent embarrassing feminine moment. Heheh. And why do I think it most apt to share it today? Because it's a Monday!
So recently, I was in a queue with my family, waiting for some tickets. It was a long queue and I specifically remember there were some men standing beside and behind me. All of a sudden, my son sneezed and his nose was dripping wet. He needed a tissue paper and I had to give him one very quickly.
Maybe because it was pretty early in the morning and I was still in a daze. Or maybe my vision was blurry. Or maybe I just wasn't paying attention. Whatever. I unzipped my bag quickly and from my bag organizer, I whipped out a pack of what I thought was the tissue paper. Uh oh…it felt like the tissue pack but it wasn't. It was my disposable sanitary pad! I even starred at it for a few seconds before realizing what it was. And of course, this was in FULL VIEW of everyone standing beside and behind me. I'm pretty sure they SAW. After I gained my senses and that was by no means a fast, lightning speed process, I put the sanitary pad back in my bag, pretended like nothing was wrong before calmly taking out the tissue paper for my son and helping him to wipe his wet nose.
It was an embarrassing moment all right…but I consoled myself that the people who were queuing are broad-minded people and so, this is no big deal. But it's probably a good excuse to get myself one of those pretty sanitary pad holders. Heh. And come to think of it, this is truly nothing compared to the one time when I forgot to zip my skirt and the back of my panty was in full public view for a good hour when I walked around the shopping mall and then traveled back home.
So you ladies have any embarrassing feminine moment or moments that you want to share on this Monday with me?
Comments