Neeta's Herbal Ayuvedics hair loss treatment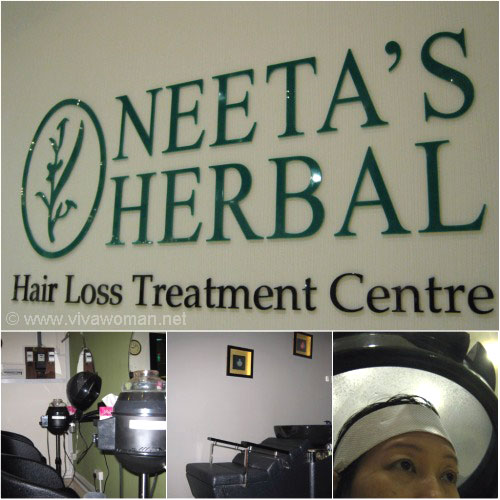 "It is foolish to tear one's hair in grief, as though sorrow would be made less with baldness." So said great Roman orator, Marcus Tullius Cicero. Well, I can't agree more. So I'm quite sure he would have agreed with me that it is good to seek more hair when one is presented the opportunity just in case one becomes excessively grieved. Like I did when I was invited to try this natural Ayurvedic solution to hair loss at Neeta's Herbal Hair Loss Centre that specializes solely in treating hair loss & promoting hair growth. I definitely can do with more hair on my crown!
First outlet in Singapore
I was told Neeta's Herbal has been around for 26 years with outlets in USA, UK, Malaysia, India, Iran, Dubai, Brunei, Australia and this is the first outlet in Singapore, operating since March this year at Novena Square 2. Lydia, who is a senior flight stewardess with Emirates Airlines, decided to open the outlet here after benefiting from the products and treatments herself. And what prompted me to accept her invitation was because I was keen to understand more about hair growth using ancient Ayuvedics principals and natural herbal products.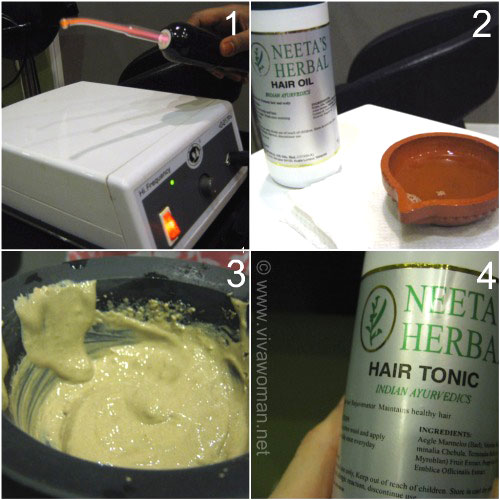 Laid-back ambience
Neeta's Herbal Hair Loss Treatment Centre is conveniently located at Novena Square 2. It's a no frills treatment centre that reminds me of a high-end barber shop. In fact, I thought I was transported back to the 80s with the music selection playing on the background while I was receiving my treatment. The interior isn't what I would describe as cozy but the dim walls definitely made me real sleepy throughout the treatment session. ZZZzzzz…
A 4-step treatment process
I was briefed on the treatment process and also had my scalp analyzed via a computerized scanner. Then I proceeded with the Ozone treatment, which involved a high frequency machine sending some electric shocks to my scalp. Okay, it sounds a little scary but the sensation is very mild and this treatment is meant to "wake" the follicles by improving the blood circulation on my scalp. This process will prepare the scalp to receive the special blend of Neeta's Herbal Hair Oil, which was thoroughly massaged on my scalp for a few minutes before following on with steaming to ensure the penetration of the hair oil into the follicles. After the steaming, my hair was treated to Neeta's Herbal Amla Hair Mask before proceeding for the final shampoo, hair tonic application and blow dry.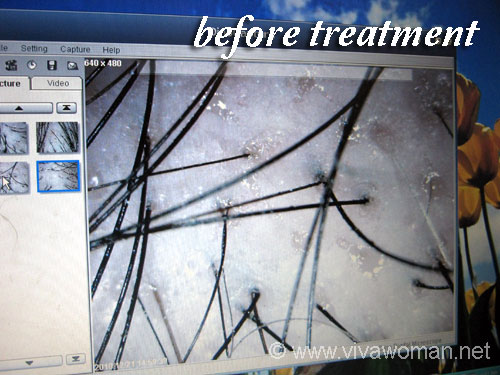 No frills after treatment
The entire treatment lasted about two hours and half the time, I was dozing off. But although dozing off, I was aware of what was done to my hair of course. The entire treatment was pleasant for me except for the shampoo session. I didn't like the way the therapist handled my head to wash the sides of my hair; she wasn't rough or anything but I'm just not used to that sort of hair wash method. The blow dry was really just a blow dry as it came with no styling that we expect from the usual hair salons. I was told by Lydia that this is because they do not wish to damage customers' hair with extensive blow-drying and hence, all hair are blown dry naturally with minimum heat.
Hair follicles unclogged after treatment
My scalp was scanned again after the entire treatment and I was happy to see that there was a marked improvement to my scalp condition. Before the treatment, I could see my follicles slightly clogged and oozing with oil even though I had just shampooed my hair that morning. After the treatment, I could see the unclogged follicles clearly and even some of the semi-closed follicles, meaning there is hope that I can get new hair growth from them.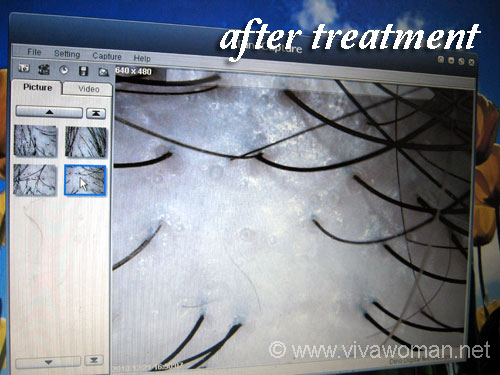 My overall assessment
I'll say Neeta's Herbal Hair Loss Treatment Centre isn't your upmarket sort of hair treatment salons; so don't go there expecting anything luxurious or pampering. But based on the one-time result I received, I think this place is for those serious about treating their hair loss issues via natural products. You probably will see some improvement to your scalp condition after the first treatment but it's more realistic to expect hair growth after a few sessions.
Price and promotion for Viva Woman readers
The usual price for the treatment I received is S$99 but Lydia has offered a promotional price for my readers at $79 for the 1st trial. You can continue to enjoy the $79 nett per session when you sign-up for their *Full Package* or *Maintenance Package*. In my case, I was told that I can sign up for the maintenance package if I like as the full package is recommended for those with severe hair thinning or conditions of Alopecia Areata.
Neeta's Herbal Hair Loss Treatment Centre is located at Novena Square 2 #B1-132, and you can visit their website for further details.
Comments