Omorovicza mineral-rich skin care from Budapest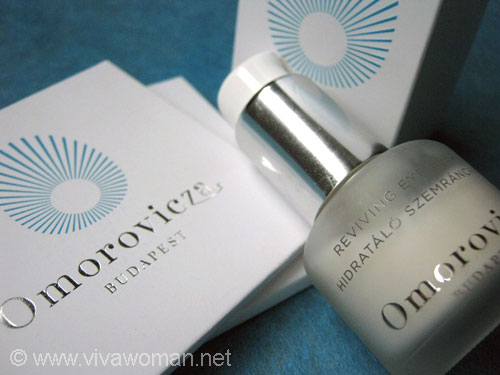 I have no idea how Omorovicza sounds like but I now have a sense of how it feels like, having tried some of their products, in particular the Omorovicza Reviving Eye Cream. This is marketed as a natural, anti-aging skin care range that leverages on the mineral-rich, healing thermal waters in Budapest via a patented delivery system known as Mineral Cosmetology. The first thing I found out while reading about this brand is that there are more thermal water sites in Budapest than any other city in the world and because the earth's crust is thinner there, and so the waters absorb the beneficial minerals more effectively. So what you have in the Omorovicza range are products that can effectively penetrate our skin with their minerals and trace elements found in Hungarian thermal waters. And apparently, this brand has gained a cult following amongst celebrities.
Best sellers
The Omorovicza range was launched in 2006 and looking at the steep price points, is definitely considered a luxurious anti-aging range. I haven't come across this brand until the company contacted me and asked if I was interested to review their products. Since I have no idea what to try, I asked about their best sellers and was told that the Thermal Cleansing Balm, followed by the Reviving Eye Cream and the Queen of Hungary Mist were their star products. I picked the Omorovicza Reviving Eye Cream because I wanted something I could use both in the day and night as the one I was using at that time could only be used at night.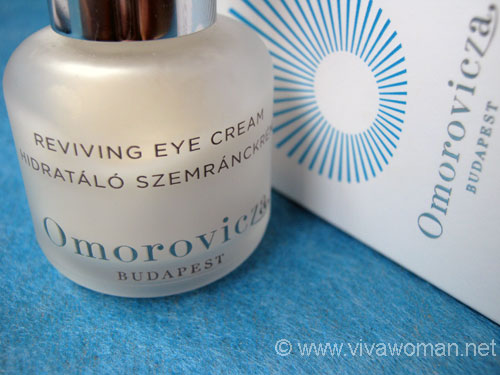 Omorovicza Reviving Eye Cream US$135
Ingredients: Aqua (Hungarian Thermal Water), Glycerin, Simmondsia Chinensis (Jojoba) Oil, Squalane, Cetearyl Ethylhexanoate, Stearyl Heptanoate, Cetearyl Olivate, Sorbitan Olivate, Butyrospermum Parkii (Shea) Butter, Caprylic/Capric Triglyceride, Cetearyl Alcohol, Cucumis Sativus (Cucumber) Fruit Distillate, Hellianthus Annuus (Sunflower) Seed Oil, Alfalfa (Lucern) Extract, Phenoxyethanol, Ethylhexylglycerin, Mannitol, Yeast Extract, Zinc gluconate, Magnesium aspartate, Copper gluconate, Hydrolyzed Soy Protein, Tocopherol (Vitamin E), Arnica Montana Flower Extract, Laminaria Digitata Extract, Pyrus Malus (Apple) Fruit Extract, Pectin, Chlorella Vulgaris/Lupinus Albus Protein Ferment, Hydrolyzed Hazelnut Protein, Prunus Armeniaca (Apricot) Kernel Oil, Prunus Domestica (Plum) Seed Extract, Malpighia Punicifolia (Acerola) Fruit Extract, Calendula Officinalis Flower Extract, Xanthan Gum.
Product description
The Omorovicza Reviving Eye Cream is said to help lift and firm the eye contour, whilst refreshing tired eyes, reducing puffiness and eliminating dark circles. Key ingredients include Arnica to reduce puffiness, Vitamin K, from lucernoil, to diminishe dark circles, cucumber extract to soothe and refresh the eye contour and hazelnut peptide to firm and lift, minimising the appearance of fine lines and wrinkles.
Packaging
The 0.5 fl oz see-through glass bottle is quite small but should last a couple of months since I don't need to use a lot for my eye area. The packaging is simple and I like the locking mechanism found in the pump bottle.
Texture and application
I started using this product sometime end of November and because I wanted to be fair to this product, so I stopped using whatever eye product I was using then. The interesting thing I found when I started using this eye cream is the tingling sensation on my skin as soon as I apply this. In fact, the tingling sensation still happens now. So that convinced me somewhat that the product is penetrating into the deeper layers of my eye area. There is no redness after application and the eye area is soothed and feels comfortable. Although called an eye cream, the texture of this product is not thick and creamy and so I applied without any worries about developing milia seeds.
After effects
For the price point and the fact that this is one of their best sellers, I would really love to rave about this product but I can't. It soothes and refreshes all right but I do not see noticeable effects in improving the other aspects of my eye area after using this for about a month now. This could be one of those products that take a longer while to work for me as I've come across instances where I need three to five months before an eye product delivers any visible results for my delicate eye area.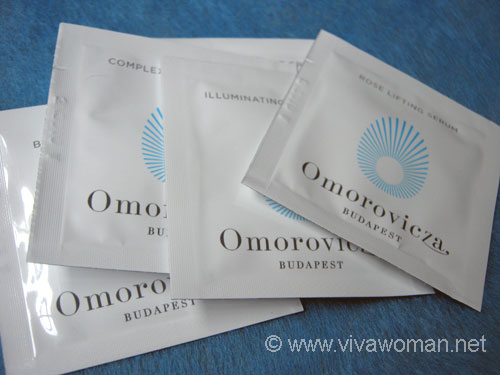 Other products
On top of the eye cream, the company also sent me some sachets of their other products to try.  Amongst these, I tried the Omorovicza Rose Lifting Serum, the Omorovicza Rejuvenating Night Cream and the Omorovicza Instant Plumping Cream. I can't say too much about the results because I've only tried them once or twice but in terms of texture, they all worked very well for me as in there were no excessive greasiness and I did not break out using them. But looking at the prices, I'm unlikely to purchase the range. I'll be more than happy to be gifted with the items though. Heh. And I certainly will have no complaints if my skin was treated to the range of products at a spa as I understand that the Omorovicza range is also used by some spas for treatments around the world.
Availability
Apart from Hungary, the Omorovicza range of luxurious skin care products are available in countries including US, UK, Canada, India, Indonesia Hong Kong, and even Singapore at Wen Lux Spa located at 6 Bukit Pasoh Road.  To find out where to get the products in the other countries, look up details on their international website.
Comments