Viva Challenge: change your pillow case regularly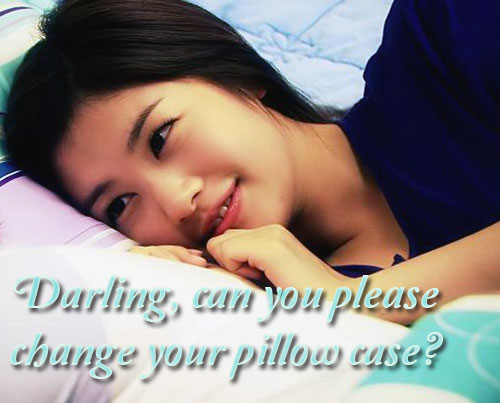 Hey hey VivaBellas! It's been quite awhile since we've done a challenge here so let's kick off with the first in the series this year. Let's begin with an easy one – something related to sleep. But no worries, I'm not going to challenge you to go to bed by 10pm nightly or am I going to insist that you sleep on your back to minimize wrinkles although these are really great beauty tips. In fact, for this challenge, you don't even have to do anything much. Maybe all you need to do is to open your mouth to ask someone to do it for you.
Yes, as the title suggests, I'm just asking you to change your pillow case regularly. Easy peasy right? Just dump it in the washing machine to spin. And I'm not going to be excessive by asking you to wash your pillow case daily but how about every week if you've got some skin issues or every other week if your face is not too problematic?
Well, this challenge is more applicable to those who are still unable to train themselves to sleep on their backs. Obviously, if you sleep on your sides, your face is going to come into contact with your pillow all the time so let's keep the pillow case clean! This is important especially for those with acne issues. If you have a lot of pimples on the sides of your face, well, maybe you should be examining your pillow case now.
So will you take up this challenge for your face's sake?
I'm not going to tell you how frequent I change mine but I sleep on my back and the back of my head don't grow pimples. Heh.

Comments