Wanna slim down? Eat Kimchi the Korean way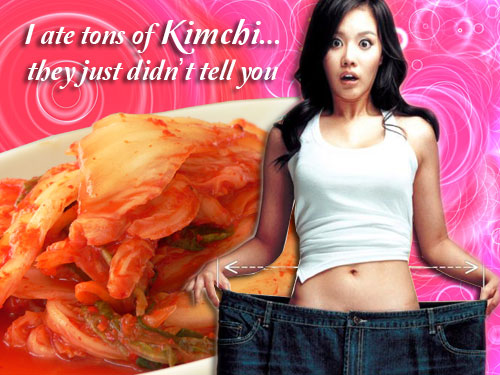 If one of your new year's resolution is to slim down, then I have very good news for you if you're a lover of Korean food, in particular, Kimchi. For Kimchi, also spelled gimchi, is said to be able to help reduce fats as this dish contains a high concentration of dietary fiber, while being low in calories.
Stay slim with Kimchi fried rice for supper
Well, how do I know? I don't because I don't eat Kimchi at all but I picked up this tip from Jo of Lolita, who told us how she learnt of it through her girlfriend who never put on weight despite eating a frequent supper of Kimchi fried rice! Interesting isn't it? So I was intrigued and went on to do some online research and I found various sources promoting Kimchi diet as a way to slim down!
Research shows South Koreans have relatively low prevalence of obesity
According to this paper published by the Research Institute of Food and Nutritional Sciences, Yonsei University in Seoul, South Korea has a relatively low prevalence of obesity compared with other Asian countries. The research suggests that the traditional Korean diet, which is a low-fat and high-vegetable diet, has played an important part in maintaining this healthy trend. And in discussing the traditional Korean diet, Kimchi was highlighted within the paper and how its ingredients such as radishes, Chinese cabbage, green onions, and garlic account for the high total vegetable intake.
Healthy diet with antimicrobial ingredients
Actually, it kind of make sense since a high cabbage intake contributes to lots of fiber plus the other ingredients of Kimchi promotes intestinal health and helps lower cholesterol. Plus, it's not oily and it is also possible to make a Kimichi with low sodium so I guess it's pretty healthy. I'm not into Kimchi but I do take a fair bit of Chinese cabbage and find that it always promote *ahem* flatulence. So yeah, you'll get lots of fiber eating this one all right!
So any of you liking Kimchi or planning to eat tons of it now that you know it can help you stay slim?
Comments