Japanese honeysuckle extract a hidden paraben?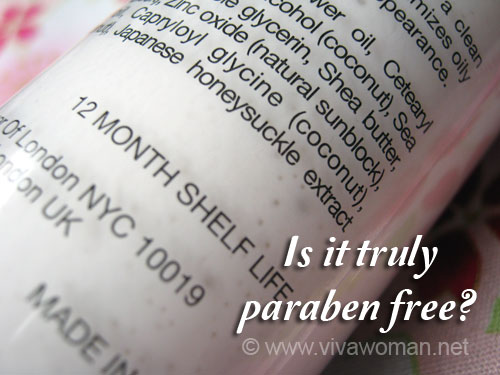 When I was reviewing the Pai Fragonia & Sea Buckthorn Instant Hand Therapy Cream, I noted that the company made particular mention that they do not use Japanese Honeysuckle in any of its products as preservatives.  I have seen this ingredient on some of the natural/organic products I use and so I was naturally curious and did some quick research about it and was even more surprised to find out that the Japanese Honeysuckle extract is considered as a naturally occuring paraben.
Here's the info I gathered from Personal Care:
A plant preservative that is based on the Japanese Honeysuckle (Lonicera japonica) is available that is described as being a complex mixture of esters of lonicerin and natural p-hydroxy benzoic acid. The commercial material from Campo is called Plantservative (WSr, WMr INCI: Lonicera Caprifolium Extract). Clearly this is a naturally occurring paraben, and we would expect this material to have antimicrobial properties.
Benefits of Japanese honeysuckle
The same source goes on to state that it has been reported that Lonicera japonica has anti-inflammatory activity and though not as potent as the normal benchmark of prednisolone, it would nonetheless be effective in treating inflammatory disorders. This factor makes the preservative very attractive, since it has benefits for its soothing properties and also has antimicrobial activity. There are not many preservatives that would have this dual benefit.
Slight difference between Japanese honeysuckle and synthetic parabens
Unfortunately, the chemical composition of Japanese honeysuckle resembles very closely to that of synthetic paraben preservatives and their only difference is that Japanese honeysuckle contains a free radical that parabens don't possess. So going by the strict standards of purists, Japanese honeysuckle is also a no no for natural and organic skin care products.  If you want to find out about the research on the Japanese honeysuckle, you can read articles from the following sources:
Chemical of the day
Green Health Research
Ingredient of the week
Not all natural ingredients are flawless as assumed
So given that the facts are already established, then where does that leave us? My take is this is just an example that not all natural ingredients are always good as assumed. Take some of the citrus essential oils for example. Use too much of them and you might develop photosensitivity. But if listed at the end of a product, I would be less concerned.
My take on the Japanese honeysuckle extract
I don't think the alternatives to parabens are perfect ones and so it depends on one's threshold and concerns. This is probably an issue for those concerned about their health but personally, I'm no purist. While I prefer the natural and organic products I use to be as clean as possible, I've also stated openly here before that I do not mind using a product that contain mostly natural ingredients with some parabens listed at the end of the ingredient list if I really want to try the product badly enough. So I'm not about to discard my products just because of this new discovery about Japanese honeysuckle.  I have decided that if I really want a pure product, then I might as well just concoct it myself. But I'm glad to have learnt more about Japanese honeysuckle extract as I now know that products that use this ingredient aren't necessarily paraben free.
Comments