Makeup sponge or brush for mineral foundation?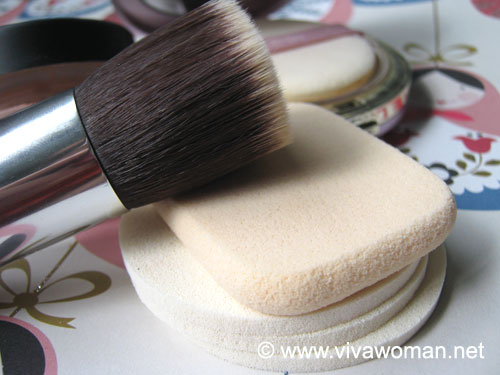 I never talked about my beauty goal for this year but one of them is actually to use more natural makeup. So the first thing I did was to switch back to using mineral makeup, thanks to the customized mineral foundation from Lolita New York. I did not lay my hands immediately upon receiving it but only started using it recently. As some of you may know, I was using using several brands of mineral makeup for over a year but when my skin broke out in acne, I gave them up because the coverage just wasn't good enough for me. Well, I just realized that perhaps using kabuki brushes ain't so great for my acne blemished skin afterall when it comes to MMU.
A need for more creativity with makeup application
Okay, I admit that while I'm visually driven, but I'm not creative when it comes to makeup. Yup, I'm quite a noob here. When I started using mineral makeup, I was just doing the "swirl, tap, buff" with my kabuki brushes. I didn't know that I could use sponges to do the job. Oh okay, I might have read about using flocked sponges for mineral makeup but just never tried. I guess the primary reason was because my kabuki brushes did the job for me and so I didn't bother to experiment. I mean, why fix if it ain't broken right? Make no mistakes though; I still love my kabuki brushes but when it comes to mineral foundation, they don't give me sufficient coverage anymore because of my acne blemished skin. It was only end of last year that I found out from Jo of Lolita that sponges do a better job of application. And then it got me – a brush gives lighter coverage and a makeup sponge or flocked sponge will yield a heavier coverage. Hello, I must have forgotten to put on my brain!
Getting a heavier coverage with mineral makeup
There is no right or wrong way to apply mineral makeup but the key is to experiment. I didn't bother before but all is not too late. I use a normal makeup sponge to dab on the mineral foundation and the coverage is good enough. In fact, I find that it gives me better control in terms of coverage. Plus, it covers up my pores better! And one more thing I did to get heavier coverage was to use a liquid foundation or tinted moisturizer beneath. Some ladies seem to like using flat top brushes but I found that gave me the least coverage. And there are some that use a kabuki brush first and then a flocked sponge to smooth the edges, like around the nose area. I guess at the end of the day, it depends on the condition of your skin and your preferences.
Using mineral makeup wet
I did try to apply mineral makeup wet but found that it did not work for me. Somehow, the minerals get soaked up in the sponge and I got very little coverage. Or, the powder gets wiped away by the sponge instead. I wonder why some ladies say this gives them better coverage.
How does flocked sponges compare with normal makeup sponges?
Many of you are well versed with makeup, more so than me at least. So let me ask you – what's the difference between a flocked sponge and a normal makeup sponge? Okay, I think the shape differs so the former makes it easy to apply powder. But other than that, are there benefits in using a flocked sponge to apply mineral makeup? Where can I get the best flocked sponge?
Comments