Physicians Formula Airbrushing Kabuki Brush Is A Buff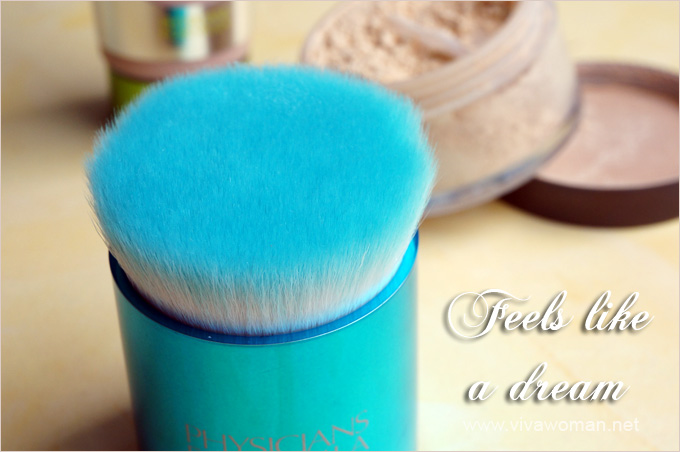 Isn't this blue such a pretty color? I certainly haven't seen anything close to it before–not on a face brush at least. It's a really cute design and definitely a novelty. And if you can reach out and touch the dense bristles through your screen now, I guarantee you'll be amazed by how soft this Physicians Formula Mineral Wear Airbrushing Kabuki Brush feels. But how did this brush fare for me? Did it really airbrushed away my pores and make my complexion look flawless? Well, read on and you'll know.
In case you've missed my recent post on the Physicians Formula Organic Wear CC Cream, I introduced their Organic Wear line where all the products are said to be 100 percent natural and 70 perecent organic. But if you know Physicians Formula, they have been around for over 75 years, creating and manufacturing high-quality, hypoallergenic cosmetic and skin care products. This Physicians Formula Mineral Wear Airbrushing Kabuki Brush is just one of their few professional quality mineral makeup tool that has been launched to complement their various face foundations and powders.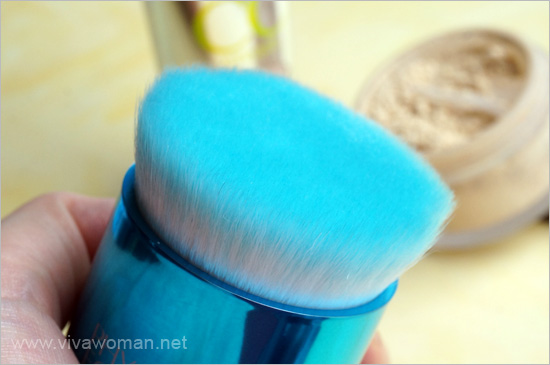 Difficult to store
I'm not sure what exactly inspired the design of this Physicians Formula Mineral Wear Airbrushing Kabuki Brush for it is both short and stubby. While it's cute looking and quite easy to handle, it's difficult to store. I still don't know what to do with it as it is an unusually bulky size that does not fit into my cosmetic bags. It can stand on its own all right but it does not come with a cover, which means it can collect dust when not in use. Hence, I've had to improvize by fitting a disposable tea bag cover over it while it stands on the vanity top.
Difficult to dry
Next thing about this brush is that it is a challenge to dry after washing! I didn't see that problem coming until I actually got it in my hands. Now, I wash my face brush before using them but how am I supposed to dry this? After much consideration with no options, I had to leave it lying down because drying it standing up would definitely shorten the lifespan of this brush considering I won't be able to keep the water out of the ferrule. It took about two days to dry and by then, the brush looked a little out of shape and that's really a shame considering I haven't even started using it.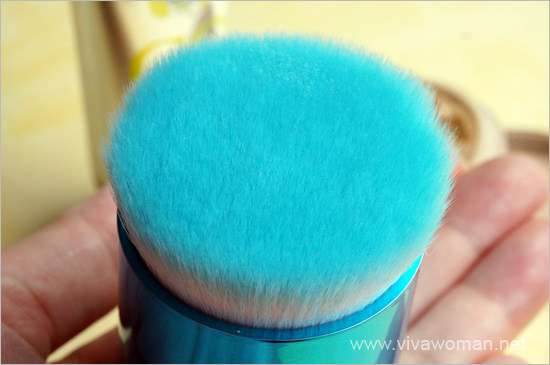 Softest ever brush
Okay, now that we've got the storage and drying challenges out of the way, let's talk about performance. Touted as the softest brush ever, Physicians Formula Mineral Wear Airbrushing Kabuki Brush comes with a unique flat shape and ultra soft synthetic hair to yield your face a flawless airbrushed finish. You can use this brush with mineral powder, pressed powder or loose powder.
Great for buffing
The ultra-dense flat shape reminds me of the Everyday Minerals Flat Top Brush but the surface area of the Physicians Formula brush is much larger. I agree that this is indeed a great buffing tool for a completely uniform and even application of powder on the face but I don't like using this for initial application of powder though. I'm not saying it doesn't work but because of the large surface area, I find the application a little clumsy as it's hard to blend into areas like the nose and under-eye area. Again, I should have anticipated this considering I always prefer using smaller brushes for my face.
Feels like a sponge
But having said that, this is a good brush to blend after applying my liquid foundation, CC cream or face powder. The result is indeed a visibly soft, smooth, and even complexion with an airbrushed finish. Also, because the bristles are packed so dense, this feels like a dream sponge when you buff it all over your face. Definitely the softest brush I've ever used thus far.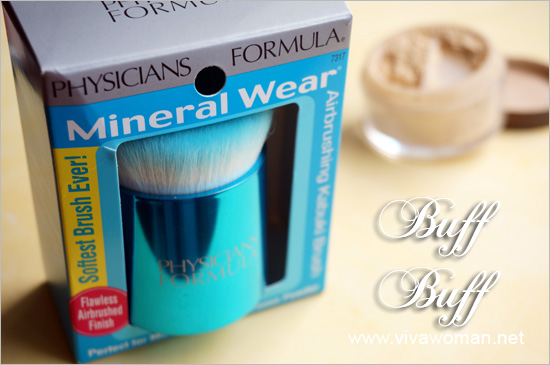 Price and concluding remarks
If you like big soft brushes, you might like this Physicians Formula Mineral Wear Airbrushing Kabuki Brush. And it's just US$10.51 at iHerb.com. However, personally, I will not want to repurchase this considering how tricky it is to dry this brush. I did read some ladies complaining that the brush doesn't last after a few wash but I've to continue using to know. As for now, I'll just enjoy the soft dense bristles as I continue to buff my face powder to an airbrushed quality.

Get US$10 off your first-time purchase
Get the Physicians Formula Mineral Wear Airbrushing Kabuki Brush from
iHerb
. If you're shopping at iHerb for the very first time, you can enjoy US$10 off if your purchases are $40 and above (US$5 if below $40). Use my promo code
OVO966
(affiliate). Shipping is speedy: you have a choice of using DHL, which takes three days to arrive from US to Singapore. I pay US$4 for the shipping via Singpost and it always takes about five days with no issues. Anyway, you're given a tracking number if you ever need to locate your parcel.

Comments