Brush Guard to dry & protect your brushes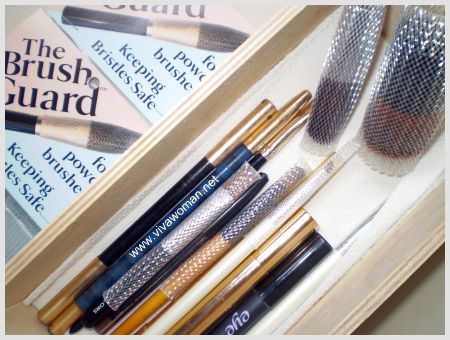 I don't know about you but I hate to wash my kabuki brushes. The Lumiere synthetic one in particular takes an awful long time to dry and it's also getting out of shape with frequent washing. I also hate the idea of leaving it out for so long in the open because it'll inevitably collect dust over the days!
Best position to dry brushes is upside down
In addition, I have a problem on the best position to air dry them. It's troublesome to dry them upside down as I have to tie them with rubberbands so I tend to leave them flat or sometimes standing which is really bad for the brushes. Well, it looks like my headache is over because I now can air all my brushes upside down and yet not hurt their bristles using brush guards from The Brush Guard!
Improper drying can damage your brushes permanently
When Diane Baker of The Brush Guard contacted me to test out their products, I already felt that these would help me with my brush problem and I was right! Like Diane mentioned to me, one of the best uses of The Brush Guard is for drying brushes. "When brushes are dried flat, the water wicks back into the ferrule where it damages the glue, and makes the wood swell, which degrades the join." Bah! I so wish I had these brush guards earlier to dry my chrome kabuki brush. I had to throw it away recently because the hair had all become detached from the ferrule because I was drying it improperly most of the time.
Brush Guards helps brushes stay in shape
The Brush Guards are stretchable, breathable tubes made of flexible sheaths which slip over the brush handle onto the bristles. There are little holes in the sheath so brushes will dry perfectly. More importantly, the brushes retain their shapes after drying. I tried it with my Lumiere hard-to-dry kabuki brush and it worked! The shape is back to almost brand new condition now! And I don't have to worry about the hygiene factor so much now because one, they're shield the brushes from collecting dust while drying and two, I can toss my brushes anywhere and not worry too much about contamination.
Available in an assortment of sizes for all brushes
You can find Brush Guards Packages in five package choices – assorted or packages of all one size with 6 guards in a pack. I received the variety pack which contains an assortment of each size. All the sizes are good for brushes with long handles but it works for my short kabuki brush too! I use the largest size and it completely encased the kabuki, looking a bit like a seed pod as Diane had described it.
One thing to note about using the Brush Guards is, you must always place your brush in them going in handle to bristle, and then going out the same way. Otherwise, you're going to ruin the bristles.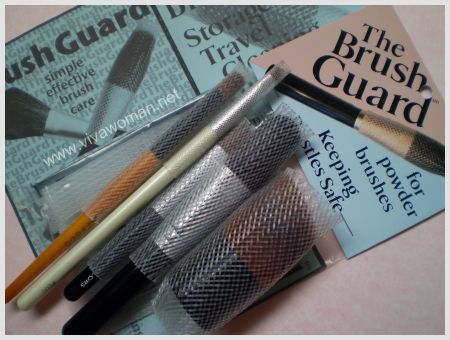 Very affordable
The Brush Guards are very affordable at US$5.50 per pack, including tax and domestic shipping in US. Additional shipping charges apply for orders from Canada ($2.00) and international ($3.00) up to five. Get it at thebrushguard.com.
And you know what? Diane was very generous to send me two more variety packs and those will be given away as part of the Viva Woman Bejeweled Giveaway. So stay tune!
Comments