No buying of shoes during the Chinese New Year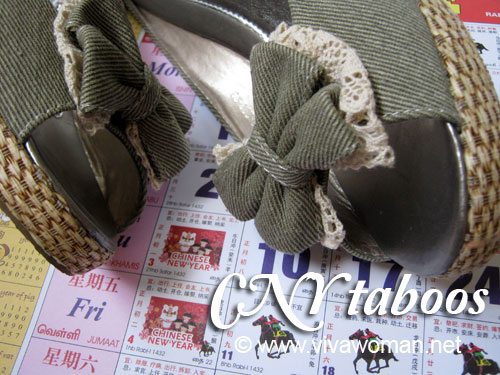 Those who celebrate Chinese New Year know that they actually have 15 days to celebrate the festivity. So Chinese New Year is not officially over till 17 February. There are a whole load of superstitions and taboos to be observed during this period and so today, I'll discussed some pertaining only to the interest of women.
Do not buy shoes during the entire Chinese New Year
So the Chinese, particularly the Cantonese, believe that we shouldn't buy shoes during the entire 15 days of the Chinese New Year. From what I understand, that's because shoes sound like the word *sigh* in Cantonese but others point out that it's because the word 'shoes' in Cantonese is a homonym for 'rough' but I totally don't get this. Anyway, I almost got myself a pair of new shoes yesterday because I thought a pair of FitFlop was going at $39.90. It was only upon close examination did I realize that it's an imitation. So give me a real pair of FitFlop at $39.90 and I'll buy them Chinese New Year or not!
Do not wear old garments during Chinese New Year
A colleague mentioned that her husband was particularly annoyed that new clothes must be worn during this season. Honestly, I've not been observing this for some years now. Sometimes I do, sometimes I don't. But I try to make it a point to at least get new underwear though.
Do not wear inauspicious colors during Chinese New Year
Red, orange, yellow and gold are popular choices of colors for a lot of the clothes this season. These are colors that will usher in 'good luck' according to most Chinese. So black and white are considered inauspicious and taboo colors because they symbolize death and are particularly frowned upon by the older generation. I hardly wear black anyway but neither did I deliberately choose to wear anything red or gold. But I did put on something that was in orange on the second day.
Do not cut or wash hair during Chinese New Year
Not washing our hair during Chinese New Year is impossible to me and I washed my hair even on the first day. Apparently, washing our hair would mean washing away 'good luck". I suppose it's the same for cutting our hair or perhaps it's also got to do with the avoidance of using knives or scissors during this season as Chinese believe it would lead to a 'cut in fortune'. I usually cut mine before Chinese New Year so it's unlikely I'll be cutting it any time soon.
These are the few taboos I'm aware of pertaining to the interest of women. If there are any that I may have missed, please add on in the comments section. So any of you observe these superstitions and taboos during this Chinese New Year? What's your 'must observe' from the list?
Comments