Use all the serums together or alternate them?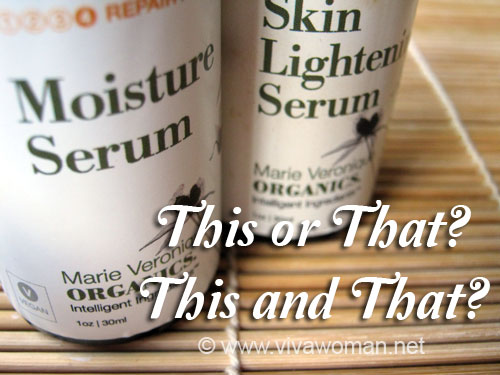 I think serums are important in our skin care routines and most of us use at least one serum, one time or another. However, I think some may use more than one serum so I'm curious as to how do you use more than one. I've always only used one serum but currently, I have two so how do I use them? Together or separately?
Serum provides intensive care
A good serum provides intensive care to treat problem or fragile areas and it aims to penetrate deep into the three layers of the skin to strengthen the cells as well as deliver active ingredients to our skin. The serums I use are typically for anti-aging purposes and aim to lighten up my pigmentation marks so I only use them in the night. Plus, I have combination skin and hence, I keep my daytime skin care routine simple and try not to overload with too much stuff considering I usually apply makeup over my skin. In the night, I will usually use two to three products after cleansing and toning and one of them is a serum. So is it good to apply two or three serums together?
Take note of combined ingredients and their contrary properties
I don't have the "expert" answer but personally, I don't use my serums consecutively. I prefer to alternate them and use one serum at a time. The reason being that I don't wish to burden my skin with too much products and the other is because I noticed some similar ingredients in the two serums. If your serums serve different functions, then it is perhaps all right to apply two serums, one after another. However, it's best to also take note that some ingredients when combined, may have contrary properties – for example, I've read that you can't use copper peptide with vitamin C – so that's another reason not to combine serums. But if you have to, then it's best to stop at two serums at one go because using more than two all at once just don't make sense to me.
Tips for layering serums
If you really need to layer your serum consecutively, it's best to allow time for your first serum to be well absorbed into your skin. I suppose five minutes should do the trick but in some cases, depending on what you plan to slather on next, you may need to leave a 20 to 30 minute window. Additionally, you may like to know that it isn't always necessary to use a face serum with a moisturizer. If you're using a face serum that is formulated with some emollient properties, your serum may double up as a moisturizer. But if your skin is very dry and needs more hydration, then you will need to use a moisturizer on top of the face serum.
How many serums do you ladies use? And if you use more than one, do you use them all at once or separately?
Comments