Can I use normal body or baby powder on my hair?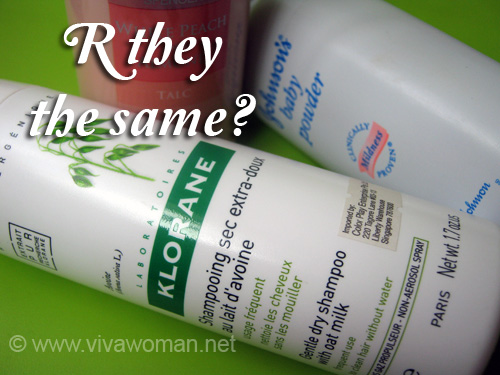 Someone asked me why do I need to use a special dry shampoo for my hair to keep the grease away; since it looks and feels like powder, so why can't I just use the normal body powder or baby powder for my hair. Well, although the dry shampoo that I use looks and almost feels like normal powder, it is quite far from it. I've actually tried using normal body or baby powder on my hair before but the effects are quite different.
Klorane Gentle Dry Shampoo With Oat Milk
Because I have extra oily hair – scalp will start secreting oil an hour or two after shampoo – I have been using Klorane Gentle Dry Shampoo on an almost daily basis. It's made with softening and protective oat extract, and keeps hair sebum at bay by penetrating the hair, absorbing dirt and grease but not drying it out. What I do is to squeeze some of the powder onto my bare hands, rub it onto my hair with my head down and brush it out after a minute or two. When brushed out, Klorane Oat Extract Dry Shampoo takes all these impurities with it, and my hair looks really clean and may I add, with some volume.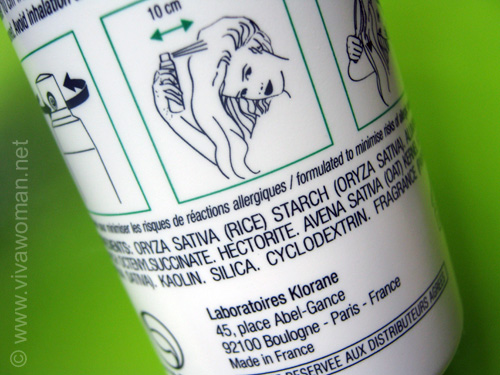 Ingredients are different
If you examine a bottle of Johnson's Baby Powder, you'll notice that only Talc and Fragrance are being listed. However, the Klorane Oat Extract Dry Shamopoo contains Oryza Sativa(Rice), Starch(Oryza Sativa), Aluminium Starch Octenylsuccinate, Hectorite, Avena Sativa(Oat), Kernel Flour (Avena Sativa), Kaolin, Silica, Cyclodextrin, and Fragance(Parfum) – many of these ingredients help to absorb grease and sebum.
Effects less lasting with normal powder
Personally, I've tried using normal body powder or baby powder on my hair and the effects are not quite the same. While they do help to absorb the grease, but the effects do not last quite as long as compared to a dedicated dry shampoo. Plus, they tend to make my hair too soft and hence, there is absolutely no volume so to speak.
So any of you used a normal body powder on your hair before? Or are any of you also using a dry shampoo like me?
Comments