Pretty feminine in pink: Principessa Beauty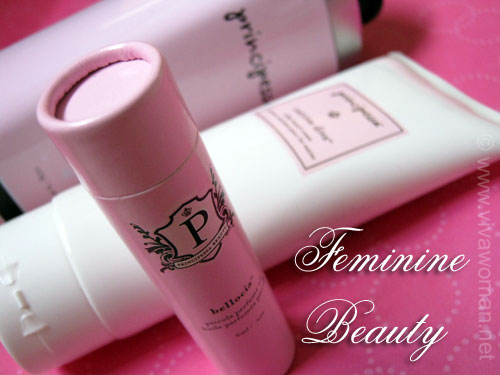 Some time end of last year, Liang Shing of i-lovemylife.com contacted me and asked if I was interested to review some products from Principessa Beauty because she was planning to bring in to her organic online store. I've seen this brand around in Sephora with their pretty pink packaging but was under the impression that they're mostly makeup. But I later found out that Principessa Beauty carries mostly bath and body items, hair products, lip balms and lip glosses plus fragrances that smell delicious. I was given three of their best sellers to try out and here's my thoughts on them.
Products are free from parabens, petroleum and phthalate
I know that we shouldn't let outward appearance belie the content but going by the pretty pink packaging, I was really expecting this to be one of those brands full of chemical synthetics. While I wouldn't call their formulation fully natural, but I was pleasantly surprised that the brand formulates their products free from parabens, petroleum, phthalate. I also learnt that the company do not test their formulations on animals and they strive to be eco friendly by ensuring that their products are all 100% biodegradable and their packaging are reusable and/or recyclable. The company also claims to be carbon neutral, which means they have a zero footprint.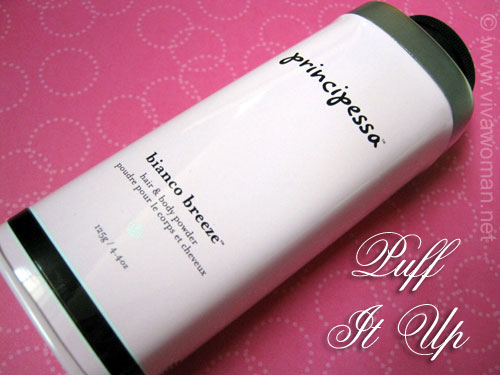 Principessa Bianco Breeze Hair & Body Powder 125g/S$42
Ingredients: Zea Mays (Corn) Starch, Silica, Parfum, Phenoxyethanol, Tocopheryl Acetate, Aloe Barbadensis Leaf Juice, Helianthus Annuus (Sunflower) Seed Oil, Organic Chamomilla Recutita (Matricaria) Flower Extract, Organic Calendula Officinalis Flower Extract.
While it's called a hair and body powder, this is positioned as a dry shampoo and is apparently, Principessa Beauty's award winning product. I'm an avid user of dry shampoo and so I know what to expect for a product like that. It should cut out all the grease on my hair and yet, leave my hair voluminous and manageable. This product does get rid of the grease for a good part of the day, and leaves my hair very manageable with some increase in volume. But the staying powder isn't as good as compared to my usual Klorane's dry shampoo. It is also very expensive. But it smells very sweet and would definitely appeal those who love to use body powder to keep themselves smelling fresh and amazing all day long. A mini size of 30g is also available at S$20.50.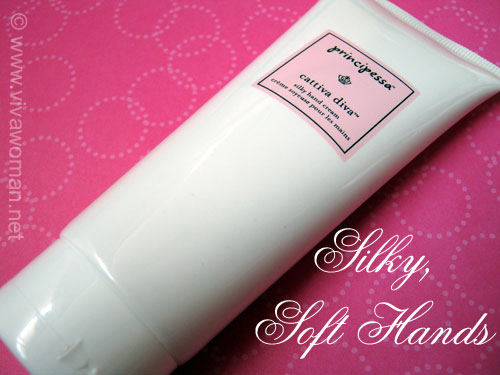 Principessa Cattiva Diva Silky Hand Cream 100ml/S$26
Ingredients: Aqua (Water), Caprylic/Capric Triglyceride, Carthamus Tinctorious (Safflower) Oil, Prunus Dulcis (Sweet Almond) Oil, Simmondsia Chinensis (Jojoba) Seed Oil, Glyceryl Stearate, PEG-100 Stearate,Cetearyl Alcohol, Limnanthes Alba (Meadowfoam) Seed Oil, Tocopheryl Acetate (Vitamine E), Cucumis Sativus (Cucumber) Extract, Daucus Carota (Carrot) Extract, Prunus Persica (Peach) Extract, Glycerin, Dimethicone, Sodium Hyaluronate, Aloe Barbadensis Extract (Aloe Vera), Fragrance, Ceteareth 20, C12 15 Alkyl Benzoate, Isopropyl Myristate, Steareth 2, Steareth 21, Benzophenone 3, Tetrasodium EDTA, Triethanolamine, Sodium Polyacrylate, Phenoxyethanol, Caprylyl Glycol, Ethylhexlglycerin, Hexylene Glycol, CI 17200.
I'm quite a sucker for hand cream and so I was eager to test out this one. The first few times I used this, I didn't like the smell for it was pretty overpowering. It's said to be scented with belloccia, which is a sweet vanilla smell. But after using it for a week or so, I got use to the scent and am quite happy to rub this on my dry hands whenever I need some moisturizing for this one makes my hands feel very silky soft without stickiness or greasiness. Definitely good to use when I'm driving for it leaves no oily stains on my steering wheel. The 100ml tube is quite huge to lug around but the good thing is, a 15ml Mini Cattiva Diva Silky Hand Cream is available for S$12.50.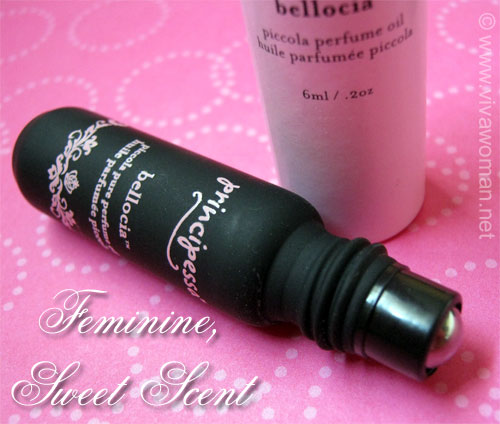 Principessa Piccola Perfume Oil (Belloccia) 6ml/S$56
Another award winning product, this one is strictly fragrance and it smells exactly like the hand cream. So if you like to be walking around smelling like sweet vanilla, then you will like this. Belloccia means irresistible in Italian and is described as a seductively sweet concoction that is both extremely luxurious and intoxicatingly delicious, opening with ethereal nuances of peach and vanilla flower, cascades into middle notes of night blooming jasmine and ylang ylang and bottom notes of sandalwood and warm amber dry down to a warm, sensual finish. It's a pure perfume oil and so, there's good lasting power to the scent. I like that it comes in a roll-on mini bottle but I find the price awfully expensive though. Besides Bellocia, the other scent available at i-lovemylife.com is Isolina, Principessa Beauty's signature scent.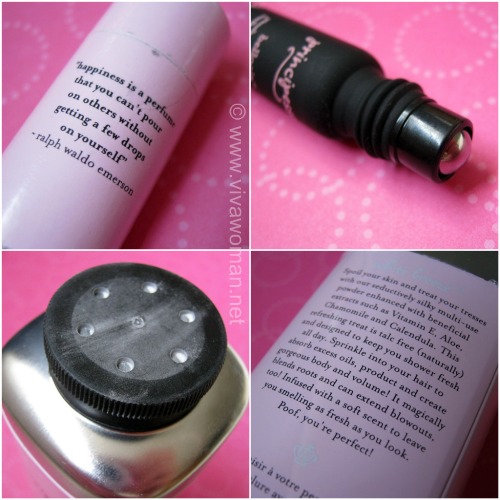 Special promotion for Viva Woman readers
Overall, I do like the three products I've tried in terms of their performance but I have to admit that while they all smell delicious, the scent are all very strong. In addition, I also find their prices somewhat steep. But the range is definitely luxurious and pampering and the good thing is, Liang Shing has offered a special 10% off all Principessa Beauty's products at her online store. No minimum purchase is required and if you spend above $50 at her store (after discount), you can get free home delivery. This offer is valid till 31 May 2011 and the promo code to use is Viva_PB. You might also like to know that all new i-vml members will receive a $5 cash credit for next purchase. To get started, click here.
Comments