Urban feature: behind the scenes 'hits & misses'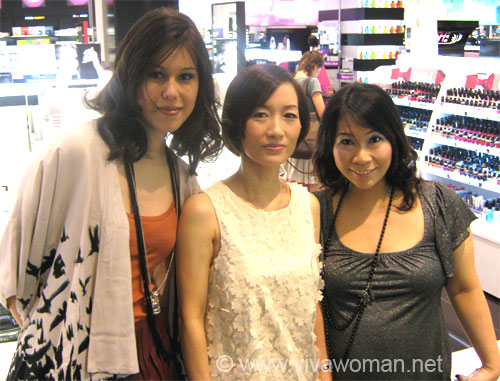 So here's Renee and Mag with me at Sephora on Tuesday morning, being dolled up and waiting to have our photos taken for the Urban feature. I actually wanted to take some behind the scenes shots but ended up too engrossed in conversations with the makeup artist and hair stylist and later on, being too shy to pose for pictures. Anyway, the clothes I wore were prepared by Urban. I have no idea what sort of look I took on, but if I added a headband and a cigarette holder, I could possibly pass off as a flapper. Heh.
For those outside of Singapore, Urban is a beauty, fashion and style supplement that accompanies our national newspaper, The Straits Times, every Friday. It is a guide to looking good and yesterday, they ran a feature on Singapore's top beauty bloggers and I was featured along with three other lovely ladies – Mag, Renee and Roseanne. Well, I really have to thank God for giving me the courage to do this, and of course my dearest readers who have been so supportive of Viva Woman. (n_n)
The makeup artist, Benedict, did my makeup using products from MAC. He's a really cute guy and I was so surprised to learn that he used to work as a IT support specialist prior to becoming a makeup artist! Talk about a dramatic career switch. As for my hair, I really didn't have that many options compared to the others with their long tresses. But thanks to Wayne of Essensuals Bugis, I really love how I look with my hair – they were styled with straighteners and they didn't look limp and flat!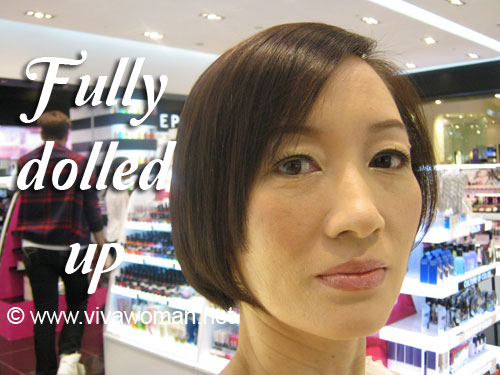 The shot of the three of us together was quite funny. We were standing behind the MAC counter at Sephora trying to play with the cosmetics. But actually, there were not many products at that corner and we ended up swapping products with each other to kill time. Haha. As for my individual picture, I didn't spend a lot of time posing for the shots really. It was just maybe about five or six shots for me and I was done. Pretty easy and relaxing for me. The only thing was that the photographer had to remind me to smile for the pictures. Oh well, I smiled all right but just not the sort of teeth-flashing smile. And if I turn around for a picture, you would have seen a big clip holding the dress too – for I had given them the wrong clothes size!
All in all, we were there for about three hours but most of the time was actually spent on the makeup and hairdo than the actual photography. Gladys, the journalist, asked me if I've ever been involved in such a photoshoot. And after thinking about it for awhile, I turned to ask her cheekily, "do wedding shots count?" (~o~) Oh, and since my age has been revealed, I must well just tell you this. I actually wanted Gladys to write my age down as 40s but she couldn't oblige due to strict orders from her editor. So I told her – okay, let's put it down as 44 for my birthday for the year is still not over! (^▽^)
© www.vivawoman.net copyright notice ☺
______________________________________________________________
Comments